Trump picks strong business-friendly candidate to the Supreme Court
Tuesday, July 10th 2018 - 07:15 UTC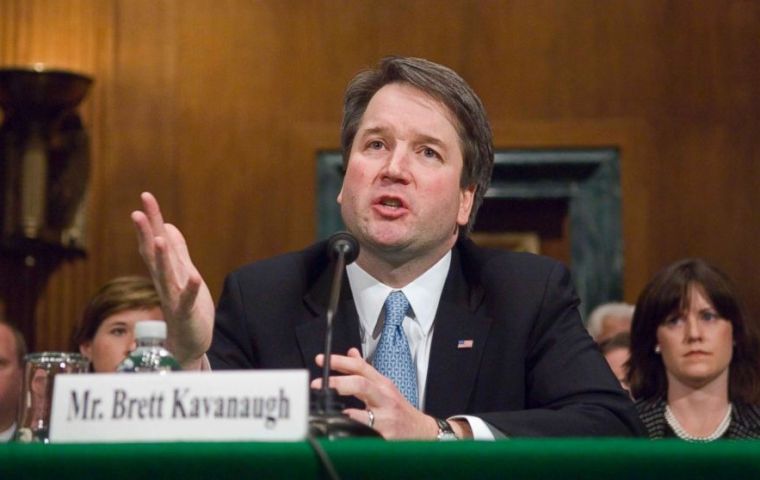 President Donald Trump on Monday night picked Brett Kavanaugh to fill an open seat on the Supreme Court, potentially creating the most business-friendly high court since before the New Deal in the 1930s. The nomination of Kavanaugh to replace the retiring Anthony Kennedy is another win for corporate America.
The court has issued a string of rulings in recent years favorable to business interests and Kavanaugh could help cement the strongest pro-business leanings on the court in decades.
Notably, Kavanaugh has been critical of the expanding powers of federal agencies to issue new regulations, a source of chronic complaints by big and small businesses alike. These agency rules touch on a broad swath of critical issues such as global warming, labor rights, credit-card fees, "payday" loans, student debt, drug pricing and access to afford housing.
Kavanaugh has also cast doubt on the constitutionality of the Consumer Financial Protection Bureau, a controversial watchdog created during the Obama years that has been the source of much angst among Republicans.
If Kavanaugh gets Senate confirmation, "then it is possible the entire CFPB could be eliminated," said analyst Brian Gardner of Keefe Bruyette & Woods.
Kavanaugh, 53, was the most experienced of the four finalists to replace Kennedy. He's a Washington veteran who's sat on the D.C. Circuit Court of Appeals since 2006 and is known for an incisive legal mind.
The Supreme Court has been trending in a pro-business direction for quite some time. In the most recent 2017-2018 session, for example, the U.S. Chamber of Commerce joined 10 cases and was on the winning side in nine of them.
It's not just conservatives siding with business, either. At least two and in some cases all four liberal justices took the side of big business in six of those 10 cases, according to article by a pair of law professors in Atlantic magazine.
In many ways Kavanaugh's ascension just reaffirms the status quo.
Although Kennedy is famous for a more liberal approach on major social issues such as abortion, gay rights and affirmative action, he generally ruled as a traditional conservative on commercial matters. In his last term, Kennedy cast the key vote in several 5-4 decisions that were viewed as pro-business.
With Kavanaugh on board, the court could undergo a subtle but unmistakable shift in how it views lawsuits based on "disparate impact," the idea that discrimination could be in play even no actual evidence of bias is found.
Before he was appointed to the D.C. appeals court, the Yale-educated Kavanaugh served as an adviser to George W. Bush. As a young lawyer he also helped write the legal briefs in the Starr Report arguing in favor of Clinton's impeachment in 1998, a part of his bio that Democrats are sure to attack.
Most Democrats are expected to vote against Kavanaugh. The White House plans to target a few vulnerable Democrats up for reelection in the search for votes. Republicans only hold a slim 51-49 margin and even a single Democratic vote could all but seal the deal.