Lord Carrington dies. He resigned as foreign secretary when Argentina invaded the Falklands
Wednesday, July 11th 2018 - 09:12 UTC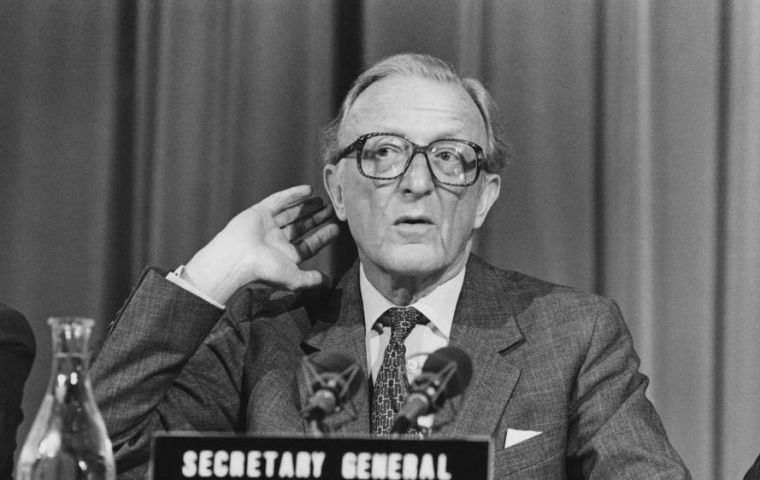 Lord Carrington, a versatile British politician who held senior posts under Conservative prime ministers from Winston Churchill to Margaret Thatcher and who was secretary general of NATO in the last years of the Cold War, died on Monday. He was 99.
His death was confirmed by Prime Minister Theresa May.
The best-remembered act of Lord Carrington's long political career was a resignation. His decision in 1982 to step down as foreign secretary, because he had failed to anticipate what he described as the "humiliating affront" of Argentina's invasion of the Falkland Islands, is frequently cited as a rare example of an honorable ministerial departure.
Lord Carrington, the sixth baron of Carrington, was the longest-serving member of the House of Lords and a descendant of textile merchants, bankers and members of Parliament dating to the 18th century. He attended Eton and Sandhurst, was a decorated officer in World War II and could have spent the rest of his days in baronial splendor on his family's Buckinghamshire estate.
Instead, he plunged into postwar politics, diplomacy and public service. In a career that spanned nearly five decades, Lord Carrington was parliamentary secretary of agriculture, first lord of the Admiralty and, in a succession of cabinet posts, secretary of defense, energy and foreign affairs.
In diplomatic assignments, he was the ambassador to Australia, represented Britain in formative talks for what became the European Union and helped negotiate the independence of Zimbabwe. He also led unsuccessful European peace talks in 1991 and 1992 among the warring states of Yugoslavia.
In politics, he was chairman of the Conservative Party for two years and served in the governments of Harold Macmillan, Sir Alec Douglas-Home and Edward Heath, as well as those of Churchill and Mrs. Thatcher. He was sometimes mentioned as a possible prime minister.
As secretary general of NATO from 1984 to 1988, he presided over the 16-nation Atlantic alliance at a time of rising tensions in the final years of the Cold War. With the Soviet Union and its Warsaw Pact alliance decaying but still strong, he envisioned a need for new arms-control agreements and renewed commitments by Western Europe and America to the common defense.
David Lidington, the Conservative lawmaker for the area including Lord Carrington's family home, described him on Twitter as the last surviving member of the postwar Churchill government, with a career "given to public service."
Peter Alexander Rupert Carrington was born on his family's estate near Aylesbury, England, on June 6, 1919, the only son of Rupert and Sybil Marion Carrington.
The family name has one "R" and its hereditary title two, an eccentricity decided by the College of Arms, Britain's heraldic authority, when an ancestor, Robert Smith, took the name Carrington and was designated First Baron of Carrington by King George III in 1796.
Peter Carrington graduated from the Sandroyd School and Eton College, and succeeded to his title in 1938 with the death of his father. Though eligible to take his seat in the House of Lords on his 21st birthday in 1940, he did not do so until after the war.
In 1942, he married Iona McClean. They had three children, Alexandra, Virginia and Rupert. Lady Carrington died in 2009.
After officer's training at the Royal Military College at Sandhurst, he was commissioned in the Grenadier Guards and served in France and the Low Countries in World War II, rising to the rank of acting major and winning the Military Cross for his role in capturing and holding a vital bridge against the Germans in 1944.
After the war, he was elected to the Buckinghamshire County Council, where he focused on agricultural production, and in 1946 took his seat in the House of Lords. After Churchill, Britain's wartime leader, returned to power in 1951, Lord Carrington became parliamentary secretary of agriculture and served briefly as parliamentary secretary of defense.
In 1956 he was named high commissioner to Australia, where his father had been born and where his family had extensive interests. He had a deep attachment to Australia. In and out of public life, he visited the country almost every year and was popular there, known for his informality and dry wit.
He was lured back to Britain in 1959 by an offer of a post that he coveted: first lord of the Admiralty. As the head of Britain's navy over the next four years, he sought to modernize the fleet and to break centuries-old traditions that governed planning and procedures.
The result was a smaller, more mobile navy with less resources for aging capital ships and more for submarines, guided-missile destroyers and advanced frigates. Britain's first nuclear sub, the Dreadnought, was built on his watch.
He was the leader of the House of Lords in 1963 and 1964, and simultaneously a minister without portfolio in the Douglas-Home government, with his principal responsibilities in foreign affairs.
He was a member of Mr. Heath's cabinet as defense secretary from 1970 to 1974, and briefly as energy secretary in 1974. He was also chairman of the Conservative Party from 1972 to 1974. Over the next five years, with the party out of power, he was leader of the opposition in the House of Lords.
As foreign secretary under Mrs. Thatcher from 1979 to 1982, he led talks that ended a revolutionary war in Rhodesia and created an independent Zimbabwe.
But he resigned abruptly after Argentina invaded the Falkland Islands, where it claimed sovereignty. Lord Carrington said he had misread Argentina's intentions and failed to anticipate the attack, which was repulsed by Britain in a popular 74-day undeclared war.
He was chairman of the General Electric Company of the United Kingdom in 1983. In later years, he was chairman of the auction house Christie's and a director of Barclays Bank, The Daily Telegraph and other companies.
His autobiography, "Reflecting on Things Past: The Memoirs of Peter Lord Carrington," was published in 1988.
In 1999, the House of Lords Act removed the automatic right of hereditary peers to sit in the House of Lords. But Lord Carrington and some other former leaders of the body were given life peerages, extending their rights of membership for the rest of their lives. At his death, Lord Carrington had been a member of the House of Lords for 78 years.