Donald Trump to push NATO on Military Spending
Thursday, July 12th 2018 - 05:22 UTC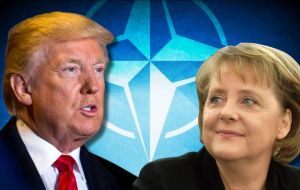 Amid tense relations with some NATO members and conflictive economic relations with China due the "America First" policy, United States President Donald Trump criticized European Allies on Wednesday in Brussels.
Mr. Trump accused Germany of being "captive to Russia" and demanding that all NATO members double their military spending targets to 4 percent of their country's economic output.
On the first day of meetings with NATO leaders, Donald Trump told European allies they should increase their defense spending, claiming that the U.S. is financing Europe's defense while Germany pays billons on Russian energy.
Trump again demanded that the allies all meet their commitment to raise their military budgets to 2 percent of their economic output by 2024, but then further stepped up the pressure by saying they should make it 4 percent.
"We should first get to 2%," NATO Secretary-General Jens Stoltenberg, adding that eight of the 29 allies were meeting that target, while others had a plan to do - turning a leaf on years of defense budget cuts.
"What good is NATO if Germany is paying Russia billions of dollars for gas and energy?" the president wrote on Twitter, after typing "Why are there only 5 out of 29 countries that have met their commitment? The U.S. is paying for Europe's protection, then loses billions on Trade."
He laid into Germany for not spending more on its military while becoming increasingly dependent on Russia for its energy needs. His criticism was based on Germany's deal to import natural gas from Russia via a new pipeline.
"Frankly, many countries owe us a tremendous amount of money for many years back, where they're delinquent, as far as I'm concerned, because the United States has had to pay for them," President Trump said in Brussels, mischaracterizing how the commitments for NATO military spending work.
U.S.'s mandatory approach has fueled concern among his critics at home and abroad that he is intent on deconstructing the postwar order and replacing it with an "America First" breed of transactional diplomacy.
His comments came at a time when Trump's own ties to Russia are under scrutiny and as he is also waging a spreading trade war that has ensnared allies — including NATO members like Canada and Germany — as well as foes and competitors like China.
This retaliation against allies and Russia comes just days before Donald Trump will meet Vladimir Putin will in Finland on July 16 for their first summit meeting.