Argentine town hoists Falkland Islands flag on Independence Day
Friday, July 13th 2018 - 11:16 UTC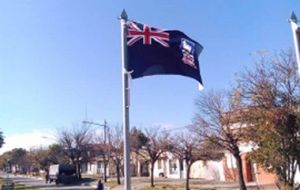 Ceres residents were shocked to see the main flag during Independence Day celebrations was that of the Falkland Islands. City Hall asks for forgiveness (perdón) via Facebook.
The City Hall of Ceres, a small town in the Argentine province of Santa Fe, extended a public apology on its Facebook account, after the Falkland Islands flag was hoisted in the Plazoleta de las Américas during the Independence Day celebrations last July 9.
"First of all we would like to say PERDON", (Sorry) read the statement in capital letters. "Always in the act of doing, there is the possibility of making mistakes," it went on.
The town of Ceres also expressed that "we are convinced that society should not go through this situation that hurts us all.
An involuntary error, an oversight, which without a doubt should not happen again. The enhancement of our platform of the Americas and the realisation of the Independence Act, were far from having the objective of this error, which we repeat, was a product of carelessness."
Ceres also apologised "to our brother Malvinas heroes, we recognise them, we love them and we respect them" and ventured this situation would surely lead to "remember those dark years, when the Argentine people recognised them as they should and as we do today."
"We are faithful defenders of our homeland, we always try to claim that feat of Malvinas, with the courage and honour with which they defended our flag," the statement mentioned.
Ceres' authorities also explained that "as soon as we noticed the situation, the flag in question was removed, but the error was already there, and we are accountable," and underlined "it was without any bad intention."
"Again, PERDON, an error that must not be overlooked and for which the proper measures will be taken."