FIFA picks Argentine Pitana for World Cup decider
Saturday, July 14th 2018 - 07:35 UTC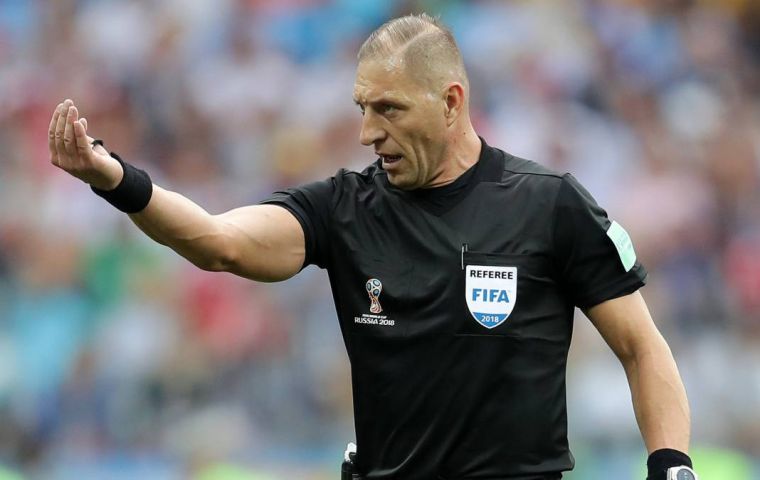 FIFA has picked Argentina's Nestor Pitana to referee Sunday's World Cup final between France and Croatia at Moscow's Luzhniki Stadium.
The 43-year-old Misiones-born referee has already officiated at four matches at in Russia 2018, including the home team's 5-0 victory over Saudi Arabia.
He also refereed Sweden's 3-0 win over Mexico, Croatia's win over Denmark on penaltues in the last-16 and France's quarter-final 2-0 triumph over Uruguay, which means both finalists have already played and succeeded under Pitana in the tournament.
Pitana will be assisted by fellow Argentine linesmen Hernán Maidana and Juan Pablo Belatti. The team will be completed by two Dutchmen: Bjorn Kuipers will be the fourth referee and Erwin Zeinstra will be the reserve assistant.
This will be Pitana's fifth match in this World Cup, after serving justice in Russia-Saudi Arabia (Group A, opening match), Mexico-Sweden (Group F), Croatia-Denmark (round of 16) and Uruguay-France ( quarter finals).
Another Argentine referee will be involved in the deciding match - Mauro Vigliano will be sitting behind a screen as one of the video assistants, alongside Massimiliano Irrati of Italy, Carlos Astroza of Chile and Danny Makkelie of The Netherlands.
Pitana is no newcomer to World Cup action, having also officiated four games at Brazil 2014.
Neither is he the first Argentine to referee at both the opening and the final match of a World Cup. Horacio Elizondo achieved the same feat at Germany 2006.
With this appointment, Pitana sets a personal record, as he becomes the Argentine to have refereed the most World Cup matches.