Brazilian journalist reports being expelled from his Russia hotel by emir of Qatar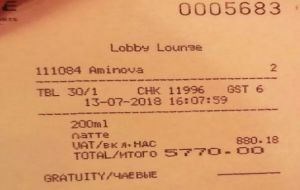 Journalist Jamil Chade of the O Estado de S. Paulo newspaper covering the football World Cup, reported on social media he was expelled from his hotel after failing to acquiesce to a request to pay the emir of Qatar's food bill.

Chade claims he was eating at the hotel restaurant at a table close to that of the highest ranking member of the royal family of the country slated to host the next World Cup in 2022.

According to Chade, the emir left without paying the restaurant bill and the hotel tried to have the Brazilian journalist take care of it. "Emir of Qatar just left restaurant in hotel in Moscow, without paying for his coffee. Waitress asked me and my friend @tariqpanja if we would pay the bill....," said Chade, who twitted all his complaints in English.

And since he refused to pay, he was expelled from the hotel by security staff. " With no reason, I have been grabbed by four security guards and taken out of Fifa hotel just minutes ago, in Moscow. No reasons given and other journalist allowed to stay," he went on via Twitter.

He was later allowed back in. " Hotel now claims it was a "mistake" the fact that I was grabbed out of hotel and allowed me back in. Amazing. No reasons given yet," Chade posted. But later on there was an explanation: "Hotel now explains I was grabbed out because I violated the "right of privacy" of the emir of Qatar. Yesterday, he left restaurant of hotel without paying the bill and waitress asked me to settle the bill. I took a picture of it and posted. Reason enough to be kicked out!," wrote the reporter on his Twitter account (@JamilChade).

Since the emir's country is to host the 2022 World Cup finals, Chade anticipated " I just had a taste of what the World Cup in Qatar will be in terms of freedom!"

FIFA's choice of Qatar for the event has been under criticism since the second it was announced and allegations of bribe are everywhere to be found. Chade's report is perceived to be either a warning or, as pro-Qatar analysts have ventured, it is just a part of the smear campaign.

During Sunday's final between France as Croatia, the emir of Qatar shared the official box with the presidents of both contending countries and FIFA's Gianni Infantino.