Measles strikes Yanomami tribes in Brazil and Venezuela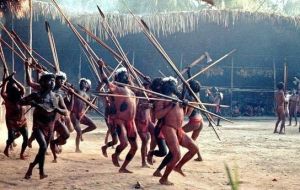 Brazilian health authorites have reported 67 cases of measles, including one baby dead among Yanomami natives on the Venezuelan border and labelled the situation as "catastrophic." The situation is by no means under control.
Of the total number of people infected with measles, 60 are Venezuelans, said Manoel Pereira, technical manager of the programme of immunization and immuno-preventable diseases of the Special Sanitary District of the Yanomami of Brazil.
Authorities are investigating another nine cases for suspected measles. So far, the only recorded death among the Indians is that of a nine-month-old Brazilian baby, Pereira said in a telephone interview with a French newsagency.
The disease is attacking especially indigenous Sanuma, a subgroup of the Yanomami ethnic group living in the border region. An estimated 3,873 indigenous people live in the area with the largest number of reported cases.
Sarah Shenker, a senior researcher at the human rights organization Survival International, said deaths were also reported on the Venezuelan side, which also appear to be measles-related.
"This outbreak could be catastrophic for the Yanomami," the researcher added, urging "the Venezuelan and Brazilian governments to offer emergency medical attention to prevent more deaths, and protect the Yanomami lands from invaders to guarantee their survival. "
The cases were recorded between March and June. Although this Saturday marks 34 days without notifications, Pereira stressed that this does not mean that the situation is controlled.