Safest aircraft in the world revealed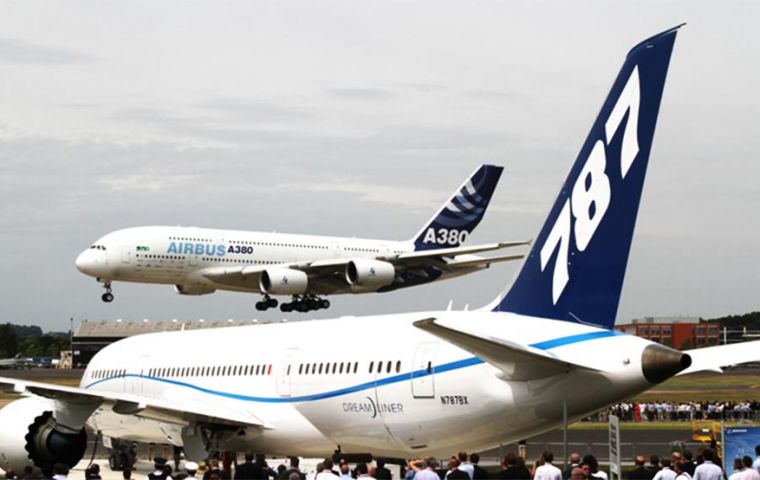 With seventy percent of air travelers having some degree of fear of flying, it's a question on the mind of almost every passenger – which are the safest aircraft. Flying today in a commercial passenger jet is incredibly safe but some aircraft types are safer than others and have perfect fatality free records.
These are the latest types from Airbus and Boeing that incorporate state-of-the-art technology and importantly the lessons learned from past accidents.
An aircraft like the Airbus A380, which has been in service for over 10 years, is a classic example with no fatalities – or the Boeing 787 which has been in service for 7 years.
And with both types, it's not just a handful of aircraft. There are 226 A380s and over 700 Boeing 787s in service with a further 680 of the latter on order.
Unlike previous aircraft, with the 787 all the numerous safety features in the cockpit are standard fit – there are no options for thrifty accountants to take out.
Another new kid on the block, the Airbus A350, also has a perfect record and there are 182 in service with another 700 on order.
The latest models of the two biggest sellers in aviation, the Boeing 737MAX and A320neo family, also have fatality free records. Boeing has delivered 162 737MAXs and Airbus 359 A320neo family aircraft. The orders for these two aircraft are staggering. Boeing has sold 4,649 of the 737MAX series while Airbus has orders for 6,143 A320neos.
Now out of production, Boeing's baby, the 125-seat the 717, which was formerly the MD-95, also makes the world's safest list, which is an outstanding achievement, as it operates into many rugged and remote airports. There are 156 of the 717s in service and it is one of the most sought-after aircraft in the second-hand market. Airbus's A340, also out of production has a fatality free record.
Another aircraft with a perfect record is the latest version of the 747 the -8 Intercontinental.
And the "new" 108-160 seat Airbus A220, formerly the Bombardier C Series, makes the world's safest list. There are 38 in service with another 360 on order.
Another Bombardier model that makes the safest list is the CRJ700/900/1000 series. These regional jets, which entered service in 2001, seat between 60 and 104 passengers and there are over 800 in service operating into many small airports.
While not having a perfect record Boeing's 777 has been involved in three fatal accidents none of which can be blamed on the aircraft's design. One accident was almost certainly pilot error, another was shot down, while MH370 appears to be human factors. (AirlineRatings)