Brazilian market lowers 2018 economic growth to 1.5%, reveals central bank survey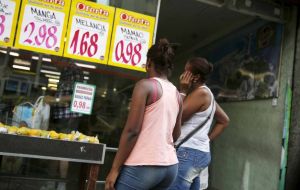 Brazil's financial institutions on Monday reduced the 2018 economic growth forecast to 1.5%, half the initial estimate issued at the beginning of the year, according to the Central Bank weekly survey. The Focus Bulletin, which interviews analysts and economists from Brazil's financial market every Monday, the country's growth estimate was actually reduced from the previous week's 1.53%.
Last week, Brazil's finance minister, Eduardo Guardia, said the government would be releasing its growth forecast for this year, placing it at around 1.6%, well below the 2.5% of its previous forecast at the beginning of the year.
The slower GDP growth is attributed to a milder than expected economic recovery, following on the 2015 and 2016 great recession, the worst in the country's history.
In 2017, Brazil's economy expanded 1%, but high unemployment and low consumer confidence, put the brakes on larger gains this year. For 2019, the financial market kept its growth forecast at 2.5%, the same from last week.
In relation to inflation, the forecast shows a reduction following eight weeks of gains, falling from 4.17% to 4.15%. This means forecasts are below the government's goal of 4.5%, but within the plus/minus 1.5 percentage points range set by the Central bank.
For the coming year inflation was forecasted at 4.1%, a level that is also below the 4.5% goal but within the 1.5 percentage points margin.
As for the baseline Selic reference interest rate, currently at its lowest historical levels (6.5%), the market believes it will remain unchanged for the rest of the year and gradually will rise to 8% during 2019.
Regarding foreign trade, surplus is expected to reach US$ 57.81bn this year, and US$ 49.3 billion at the end of 2019.