Macri offers optimistic forecast of Argentine economy, pledging growth will return next year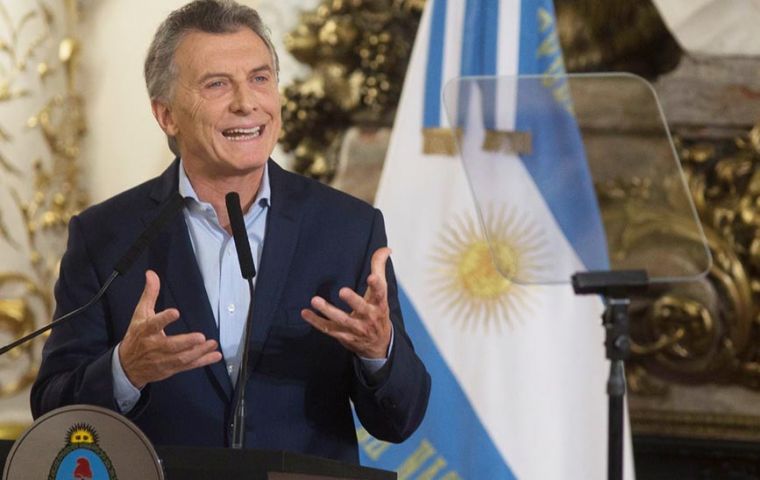 Argentina's economy will return to growth in 2019, President Mauricio Macri said on Wednesday, following a year marked by higher-than-expected inflation and a run on the Peso currency that many economists anticipate will lead to a recession.
The turbulence prompted Argentina to turn to the International Monetary Fund (IMF) for a US$50 billion financing deal, and Macri said the government was still weighing several options to boost revenue and reduce spending to meet the fiscal deficit targets outlined in the agreement.
"Clearly the levels of growth that we are coming from are going to diminish," Macri said in a press conference at the Olivos presidential residence. "There will be a few months in which the steps that we have taken have to mature, but we will return to growth next year."
Last year, 2.9% growth helped lift Macri's market-friendly coalition to victory in October's congressional elections. The economy has slowed this year due to a slump in farm output following a severe drought and the currency crisis triggered by a selloff in emerging market assets combined with doubts about the government's ability to reduce inflation.
The IMF expects Argentina's economy to shrink in the second and third quarters of 2018. As part of the deal, Argentina agreed to slash the primary deficit to 1.3% of GDP, down from its prior 2.2% goal.
The Fund said Argentina could improve its finances by delaying implementation of a tax reform and modifying a plan to reduce soy export taxes. Government officials have said they would consider the former but that Macri has ruled out the latter.
On Wednesday, Macri did not directly respond to questions about whether the government was considering those two measures, saying that he believed the export tax was "not smart" but that there were "a number of proposals" being discussed between the federal government, lawmakers and provincial governors.
"We have made a list of alternatives, which has one column for spending and one for revenue, and that is the discussion that has just begun with various people involved," Macri said.
He added that rising hydrocarbon production in the Vaca Muerta shale play would allow Argentina to become a net natural gas exporter in three years, and that in four to five years it would be able to export 500,000 barrels of oil per day.