G20 ministers warn trade tensions risk derailing global growth and call for greater dialogue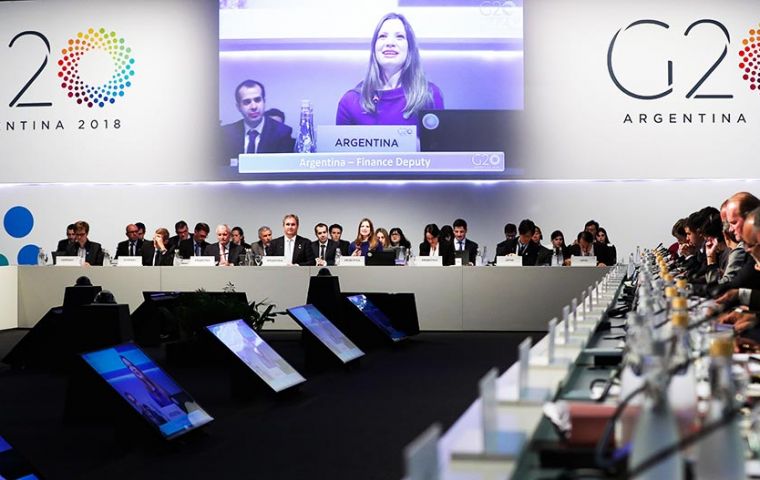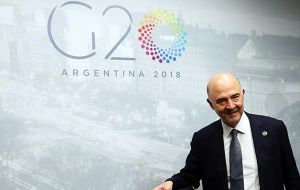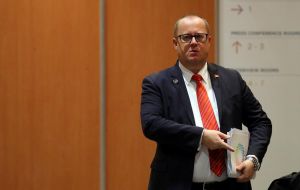 Finance ministers and central bankers from the world's largest economies said on Sunday that heightened trade and geopolitical tensions risk derailing global growth and called for greater dialogue, according to the final communique of a G20 meeting.
The weekend talks in Buenos Aires come amid an escalation in rhetoric in the trade conflict between the United States and China, the world's largest economies, which have so far slapped tariffs on US$ 34 billion worth of each other's goods.
U.S. President Donald Trump raised the stakes on Friday with a threat to impose tariffs on all US$ 500 billion of Chinese exports to the United States unless Beijing agrees to major structural changes to its technology transfer, industrial subsidy and joint venture policies.
The communiqué noted that global economic growth was robust and unemployment was at a decade low. However, it warned that growth was becoming less synchronized among major economies and downside risks over the short- and medium-term had increased.
"These include rising financial vulnerabilities, heightened trade and geopolitical tensions, global imbalances, inequality and structurally weak growth, particularly in some advanced economies," said the communiqué.
The ministers reaffirmed the conclusions from G20 leaders at their most recent summit in Hamburg last July, when they emphasized that trade was an engine of global growth and that multilateral trade agreements are important.
"We...recognise the need to step up dialogue and actions to mitigate risks and enhance confidence," the final communiqué said. "We are working to strengthen the contribution of trade to our economies."
The language marked an incremental toughening from the communiqué issued at the previous ministerial meeting in March, which had only noted that the leaders "recognise the need for further dialogue."
Trump has angered European allies by imposing import tariffs of 25% on steel and 10% on aluminum, causing the European Union to retaliate with similar amounts of tariffs on Harley-Davidson Inc motorcycles, bourbon whiskey and other products.
Trump, who frequently criticizes Europe's 10% car tariffs, is also studying adding a 25% levy on automotive imports, which would hit both Europe and Japan hard.
"We were in mutual listening mode and I hope that this is the beginning of something," European Commissioner for Economic and Financial Affairs Pierre Moscovici told reporters on Sunday, referring to the G20 negotiations. "But still the positions are not similar."
U.S. Treasury Secretary Steve Mnuchin has sought to use the meeting to woo Europe and Japan with the offer of free-trade deals, as Washington tries to gain leverage with allies in its dispute with China.
However, French Finance minister Bruno Le Maire rebuffed the overture on Saturday, saying that Washington must drop its tariffs before any talks could start.
European Council representative to the G20 Hubert Fuchs struck a more cautious tone on Sunday, saying the United States' removal of tariffs was not a necessary precondition for trade talks to begin and he welcomed the candid approach adopted by Mnuchin at the meeting.
"Even the (Treasury secretary) of the United States says that he's in favor of fair and free trade, but the problem is that the United States understands something different under fair and free trade," he said.
Canadian Finance Minister Bill Morneau said Mnuchin had over the weekend expressed a goal for all G7 countries to "drop all tariffs, non-tariff barriers and subsidies," which Morneau characterized as a "great idea" and an "aspirational target" but difficult to execute.
The communique emphasized that structural reforms were needed to enhance growth, and reaffirmed commitments from March's ministerial meeting to refrain from competitive devaluations that could have adverse effects on global financial stability.
It noted that emerging market economies were now better prepared to adjust to external shocks but still faced challenges from market volatility and reversals of capital flows.