Statement by the UK government on the situation in Nicaragua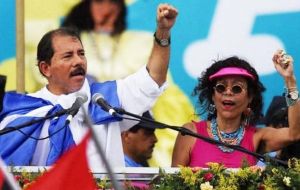 "The worsening situation in Nicaragua is alarming. The United Kingdom reiterates its condemnation of the violence in Nicaragua, in particular the deliberate excessive use of force by police and pro-government armed groups against the people of Nicaragua, which has led to an increasing number of injuries and deaths.
The United Kingdom remains deeply concerned by reports of human rights abuses, including extrajudicial killings, arbitrary detentions, torture and intimidation.
"The Nicaraguan Government has a responsibility to end the violence, protect its citizens and ensure perpetrators of abuses are brought to justice. The United Kingdom urges the authorities to heed the recommendations made by the Inter-American Commission on Human Rights in their latest report, respect the right to freedom of expression and assembly, and set the right conditions for inclusive dialogue to resume.
"The United Kingdom welcomes the mediation role played by the Nicaraguan Episcopal Conference and encourages all parties to commit to a peaceful resolution of the crisis.
The United Kingdom welcomes the Nicaraguan Government's invitations to the IACHR and the UN to investigate abuses, and to the EU to support the national dialogue, and urges the authorities to allow them to carry out their work fully without hindrance.
The United Kingdom is pleased that the EU is ready to accompany and support the Dialogue and has reinforced its support to Human Rights Defenders and human rights organisations".