Brazil combats fake news: media analysis studies compulsory in schools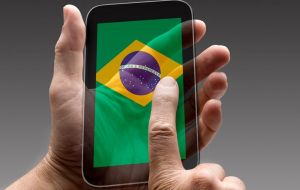 Brazil has taken a stand against the explosion of "fake news" stories swamping the internet by making media analysis studies compulsory for schoolchildren. Media analysis studies became compulsory in December 2017, but have been offered alongside traditional subjects like mathematics and history for years in some Brazilian schools.
"The aim is to teach students to identify fake news, and now it's part of the national curriculum because the country has decided it's necessary," said Leandro Beguoci, editorial director at Brazilian education specialists Nova Escola.
"The proliferation of social media networks have created an urgent situation in this respect," Beguoci said.
At Casa Blanca public school in Sao Paulo, teachers Lucilene Varandas and Hildenor Gomes do Santos ensure their students, aged eight to 14, know not to take everything they watch or read at face value.
The children do not have the tools to systematically check everything, but "they look at the articles, who wrote them, who could be interested in them and where they're published, which are all ways of questioning the information," said Varandas, who is looking to create partnerships with fact-checking agencies to expand the children's education.
The measures seem to be working despite the children's young age.
With a population of almost 208 million people, Brazil has a massive social media presence: 120 million WhatsApp users, more than 100 million people on Facebook and another 50 million signed up to Instagram.
"In the past, kids were taught by their parents, but now that happens through a variety of means, something which alters the role of the school," said Beguoci, a trained journalist.
"What's so interesting in Brazil is that media and technological literacy are considered as important as classical literacy."
Beguoci denies that information analysis is an additional burden on the education system, saying it rather offers "a context that can improve education."
For Veronica Martins Cannata, who coordinates technology and communication studies at the private Dante Alighieri School, children have their own responsibility when it comes to fake news.
"Technology has facilitated communication, but the time has come to question its content," she said. "As natives of the digital age, children and teenagers must take the responsibility to analyze that content before reproducing it."