EU waters down Mercosur expectations of a trade agreement next September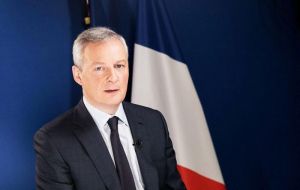 Despite EU and Mercosur countries remaining committed to reaching a trade agreement, the European Commission did not endorse the South American bloc's target to reach an agreement by September, as substantial gaps remain between the two sides.
Last week, Argentine Foreign Minister Jorge Faurie said in Brussels that a political agreement could be signed by September.
"We will be negotiating until the end of July before returning to Brussels in late August with a view to signing a political agreement," Faurie said, following two days of talks between EU trade boss Cecilia Malmström and Mercosur ministers.
But a Commission spokesperson said on Monday that "it is too early to say when a political deal could be reached".
A trade pact between the EU and South American bloc Mercosur could be agreed in early September, Argentine foreign minister Jorge Faurie said last Thursday.
The spokesperson added that there is "still important work to be done" in areas such as cars and car parts, geographical indications, maritime services and dairy.
In addition, French Finance minister Bruno Le Maire recalled on the sidelines of the G20 ministerial meeting over the weekend in Buenos Aires that differences remain on issues such as agriculture and livestock.
"We are waiting for Mercosur countries to find an agreement between themselves, and come back to us so that we can move forward," he said.
Beef imports from the Mercosur countries (Argentina, Brazil, Uruguay and Paraguay) have been one of the main bones of contention during the talks. This issue is especially sensitive in member states like France and Ireland.
Meat imports were a significant obstacle in brokering the EU's trade deal with Canada. Now, the same issue has cropped up in the ongoing Mercosur talks, infuriating French livestock farmers and politicians.
But an EU official insisted that the negotiations "are not about beef" and added that, on substance, there are other issues where gaps exist. One of the most controversial topics is the list of geographical indications that the EU wants recognized as part of the deal. The Union's list includes 357 products, of which around 50 are seen as controversial, including manchego cheese, cognac and Rioja wine.
Besides elections will take place in Brazil in early 2019 and the European elections will take place in May of the same year.
Despite France's concerns about an EU-Mercosur deal, European Commission President Jean-Claude Juncker insisted on reaching an agreement by the end of this year because it is "the most important" trade deal for Europe.
A deal would be eight times the size of the trade agreement reached with Canada (CETA) and four times the volume of the recent deal signed with Japan, which is currently the EU's largest.