Falklands chooses Latam as preferred operator for a second flight
Thursday, July 26th 2018 - 19:47 UTC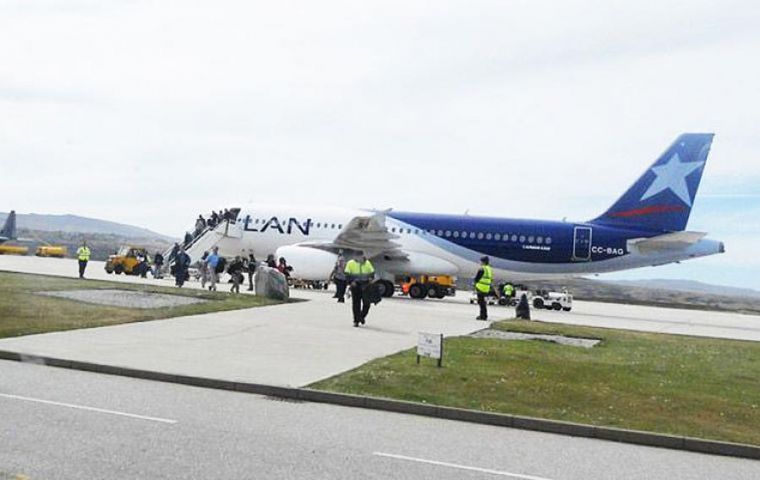 The Chilean/Brazilian Latam airline has been chosen by the Falkland Islands Government as the preferred operator to provide a second commercial flight between the Falkland Islands and South America. The official announcement was made on Thursday, 26 July.
According to the release, the airline has proposed a mid-week flight between the Falkland Islands and Sao Paulo in Brazil. Further negotiations with LATAM will include discussions on how the stop once a month in Argentina will be met.
Officials from the Falkland Islands Government will continue detailed discussions on the proposals over the coming weeks.
Finally, "future flight proposals will be shared with the public before a final decision is made by the Executive Council in September 2018.
The workings for a second commercial flight connecting the Islands with the continent was established in the 13 September 2016 Argentine/UK joint communiqué, which also included a constructive approach to South Atlantic issues, such as fishing, trade, hydrocarbons and shipping.
More specifically on the issue, the communiqué said that "...both sides agreed that further air links between the Falkland Islands and third countries would be established. In this context they agreed the establishment of two additional stops per month in mainland Argentina, one in each direction. The specific details will be defined".
On the basis of this the Falklands government contracted Aviation Economics, a specialist in aviation consultancy to help appoint a preferred airline operator to provide the second flight.
Likewise last February Argentina and UK jointly requested the governments of Brazil, Chile, Paraguay and Uruguay to assist in contacting airlines to communicate their interests in establishing a new weekly scheduled air service to and from the Falkland Islands. In March it was revealed to the Argentine congress that seven airlines had expressed an interest: two from Uruguay, two from Chile and three from Brazil.
And on 13 June the Falklands Islands Executive Council announced it had agreed to appoint a preferred airline operator to provide the second midweek flight, and "detailed negotiations will now begin, however at this stage the identity of the preferred operator, as well as the discussions, will need to remain confidential for commercial reasons".
"The final decision on the way forward will be made by the Legislative Assembly and ExCo in the next few months, but this will not be before August, to allow sufficient time to conclude discussions"
The new air link is expected to be operational in October this year where it will complement the existing weekly Latam airlines operated service between Mount Pleasant Airport and Punta Arenas, Chile, which stops over in Rio Gallegos, Argentine Patagonia once a month.