Macri joins the BRICS summit in South Africa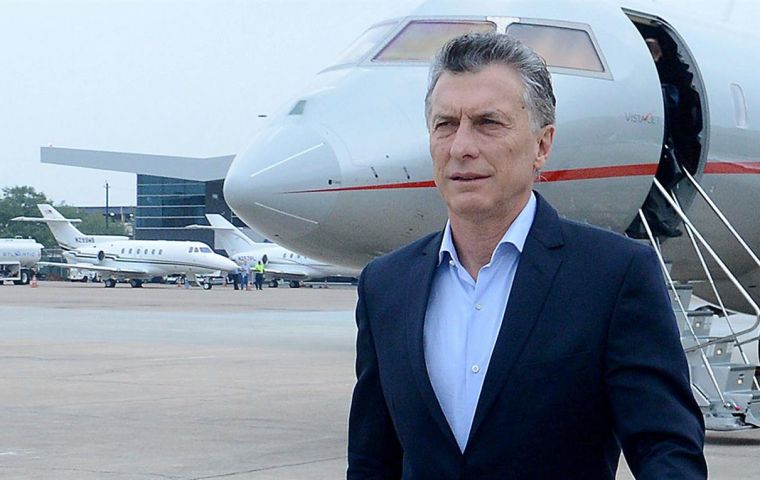 Argentine president Mauricio Macri leaves for South Africa this Thursday to participate in the annual BRICS summit, where Brazil, Russia, India, China, and South Africa come together to discuss common issues.
The search for responses to the threat of a US trade war against China and the EU, including multilateral agreements and other actions, will be the backdrop for the meetings in Johannesburg. As president of the G20, Macri was invited to participate in the encounters.
BRICS is a block of emerging nations formed in 2009 and comprises five countries deemed to be at a similar stage of newly advanced economic development. Representing over 40% of the world's population, the group's growth rates surpass those of the developed countries of the G7.
Macri at the BRICS summit is expected to consult his peers on the coming G20 summit in Argentina and the agenda that will be addressed during the meeting in Buenos Aires. He will also explore possibilities of establishing bilateral relationships with BRIC member nations.
Although Macri's office has not confirmed any meeting, it can be expected he will meet with his peers Xi Jinping of China, Vladimir Putin of Russia, and Narendra Modi of India. Likewise with Brazil's Michel Temer, host Cyril Ramaphosa of South Africa and another non-BRICS invited leader, Recep Tayyip Erdogan of Turkey.
Most importantly, Macri will seek to establish a closer relationship with Xi Jinping in order to promote bilateral policies to attract Chinese investment in Argentina. In a global economy that shifts investment capital away from insecure markets, strong links with China would send a strong signal. Argentina already has investment agreements with Beijing to allocate some US$ 30 billion in railroads, gold and lithium mines, and electric cars.
However since the implementation of adjustments demanded by the IMF, which froze construction projects in Santa Cruz, that investment framework is under stress.
With Putin Macri will address increasing trade and Russian investments in Argentina. The current US and EU trade blockades on Russia is an opportunity for Argentine produce, particularly since sales to Moscow only represent less than 1% of its imports.