Campaign to discredit process leading to Qatar organizing 2022 World Cup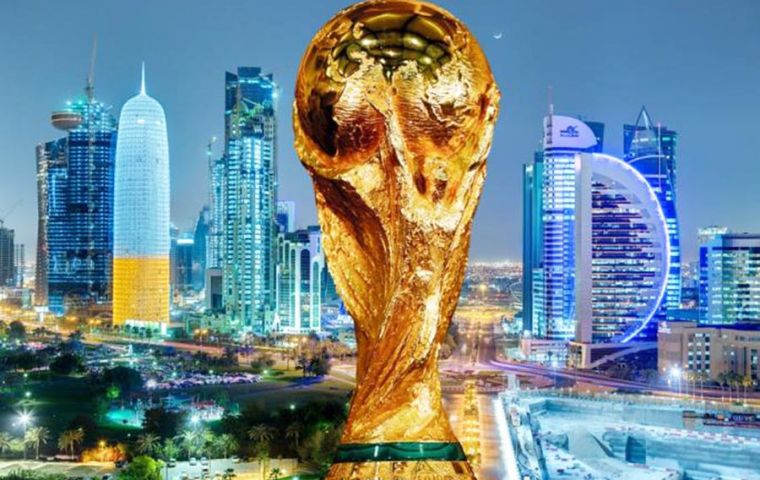 The world's football governing body FIFA has been urged to conduct an "independent investigation" into claims the Qatar 2022 World Cup bid team ran a secret campaign in 2010 to sabotage competing host bids.
The chairman of UK's House of Commons Digital, Culture, Media and Sport select committee Damian Collins said the "serious allegations", published in The Sunday Times, would be a breach of FIFA's rules if true.
"It requires a proper independent investigation and FIFA should make clear that will happen," he said. Speaking on BBC Radio 5 live, he added: "If the Qataris have broken the rules, they should face some sanctions."
In a statement Qatar's Supreme Committee for Delivery and Legacy said it "rejects each and every allegation put forward by the Sunday Times".
The paper claims to have seen leaked documents that show the Qatari bid team employed a US PR firm and ex-CIA agents to smear its rivals, mainly the United States and Australia.
The alleged aim was to create propaganda to give the impression that a World Cup would not be supported domestically. The Qatar tournament organizers deny the allegations.
A campaign such as that alleged by the Sunday Times would have broken Fifa's bidding rules. Qatar beat rival bids from the United States, Australia, South Korea and Japan to the right to host the 2022 World Cup.
Fifa's rules say World Cup bidders should not make "any written or oral statements of any kind, whether adverse or otherwise, about the bids or candidatures of any other member association".
The Qatar bid team has been previously accused of corruption, but was cleared following a two/year FIFA inquiry.
The documents seen by the Sunday Times - which the paper says were leaked by a whistleblower who worked on the 2022 bid team - were apparently unavailable during the FIFA inquiry.
The Qatar bid team is alleged to have employed the New York office of communications company Brown Lloyd Jones, which is now BLJ Worldwide, along with a team of former intelligence officers to run a campaign aimed at undermining one of FFIA's key criteria in the bidding process - that each bid should have strong backing at home.
In its statement, Qatar's Supreme Committee for Delivery and Legacy said: "We have been thoroughly investigated and have been forthcoming with all information related to our bid, including the official investigation led by US attorney Michael Garcia.
"We have strictly adhered to all FIFA's rules and regulations for the 2018/2022 World Cup bidding process."
A FIFA statement said "a thorough investigation was conducted by Michael Garcia and his conclusions are available in the report", referring to the completed two-year inquiry.