Thomas Cook will stop selling tickets for Sea World and Loro Parque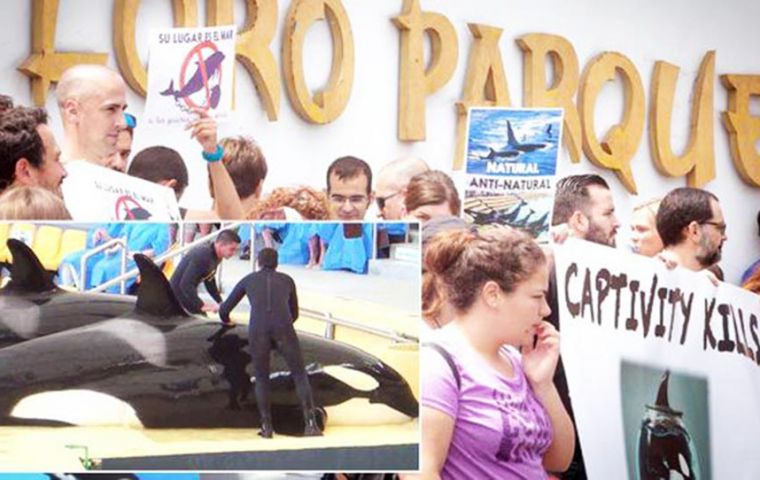 Global tour giant Thomas Cook says it will stop selling tickets to "any animal attractions that keep orcas in captivity". That means marine parks like Sea World in Florida and Loro Parque in Tenerife will be dropped next year.
SeaWorld faced a backlash after the 2013 documentary Blackfish linked 3 deaths to a performing killer whale called Tilikum.
A three-month-old killer whale, the last orca to be born in captivity at a SeaWorld park, has died at the company's San Antonio, Texas facility after suffering a possible pneumonia infection.
Recently SeaWorld and Loro Parque both passed minimum animal welfare guidelines set by the Association of British Travel Agents (ABTA), however that was not enough for Thomas Cook to continue promoting the parks.
In a blog, chief executive Peter Fankhauser said 90% of the company's customers were concerned by animal welfare.
"This was not a decision we took lightly. We always said that we would continue to review our policy, conscious that the more we got into this area, the more we would learn, and conscious also of changing customer sentiment.
"We have actively engaged with a range of animal welfare specialists in the last 18 months, and taken account of the scientific evidence they have provided.
"I am clear about the kind of business that we want to be. That's why we introduced our animal welfare policy 18 months ago, and that's why we've taken this decision today. And when so many of our customers are so clear in their view, I could not allow our business to ignore them."
Fankhauser did acknowledge that both parks "passed our audit process and made improvements to the way they treat animals. We respect and applaud the work that has been done, and we will work with both over the next 12 months to prepare for our exit".