BRICS' leaders support Argentina's economic strategy, claims president Macri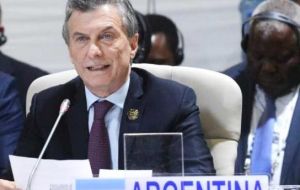 Leaders from the BRICS bloc of emerging economies share a "positive outlook" on Argentina's embattled economy, President Mauricio Macri said on Monday. Macri added that leaders from BRICS members - Brazil, Russia, India, China and South Africa - meeting in Johannesburg for the July 25-27 summit also expressed their support for the Argentine government's economic strategy.
The BRICS countries "have a positive outlook of our future," said Macri, who attended the Johannesburg summit as the current president of the G20. The G20 summit of world leaders is scheduled to meet in Argentina later this year.
Argentina is grappling with high inflation, devaluation and incipient recession as Macri's administration implements economic reforms.
Accumulated inflation hit 16% in the first half of the year, with a monthly high of 3.7% in June, according to the latest government figures supplied by Indec.
Argentina's economy worsened in May and June, as the peso tumbled against the U.S. dollar, which prompted the government to turn to the International Monetary Fund (IMF).
"There are no magical solutions," Macri said, referring to a series of unpopular measures his government has taken, including securing a 50-billion-U.S.-dollar loan from the IMF, which is much resisted by the opposition and labor unions.