Theresa May will hold talks with President Emmanuel Macron on Friday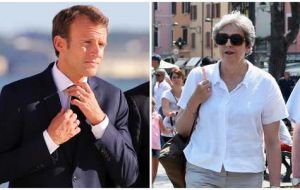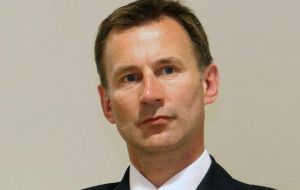 Prime Minister Theresa May is to hold talks with French President Emmanuel Macron on Friday, Downing Street says. Mrs. May has been invited to Mr. Macron's holiday retreat in the south of France. It comes as the UK government steps up its engagement with counterparts in the EU over Brexit.
Foreign Secretary Jeremy Hunt told the Evening Standard France and Germany had to "send a strong signal" to the European Commission on the need for a "pragmatic and sensible outcome".
And he warned that the likelihood of no deal being reached were "increasing by the day".
The UK is due to leave the EU on 29 March 2019, but the two sides have yet to agree on how their future relationship will work. Key differences between the UK and the EU remain, more than a year after negotiations started.
UK government ministers say they want to reach a deal with the EU covering issues like trade and border checks, but are also making contingency plans to prepare for leaving with no agreement in place.
Last week the EU's chief negotiator, Michel Barnier, rejected a key part of Mrs May's proposals, which would involve the UK collecting customs duties on its behalf.
More concerns have been raised in the UK about the consequences of a no-deal Brexit.
An assessment by Dover Council said a giant 13-mile "lorry park", proposed for M20 could be in place for years as ports try to cope with the situation.
It said "there does not appear to be a Plan B" if it does not work, and it could lead to "17-mile traffic jams".
Kent County Council has also warned that any increased border and customs checks could lead to delays and long queues of port freight traffic.
Mr Hunt, who is holding talks with his French and Austrian opposite numbers, warned of economic consequences for both the UK and the EU if a deal can't be found.
"The probability of no deal is increasing by the day until we see a change of approach from the European Commission who have this view that they just need to wait and Britain will blink.
"That is just a profound misunderstanding of us as a nation," he said. "There is a real chance of no deal by accident."