Falklands contrasting opinions on the Sao Paulo air link consequences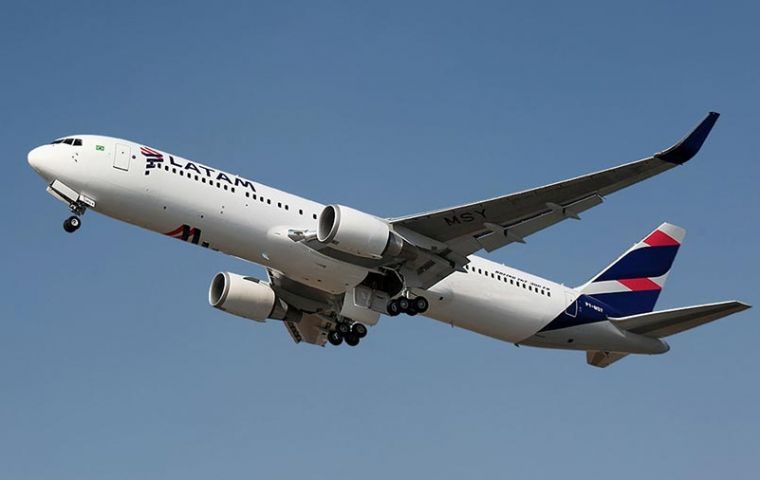 The Falkland Islands government preferred choice for a second commercial flight to the South American continent has met with contrasting opinions as to the practical and potential future consequences of the Sao Paulo destination.This was clearly expressed in the Letters chapter of the Penguin News. One of them comes from the FI Chamber of Commerce, and the second from the main importer of fresh produce to the Islands.
Second flight welcome
THE Chamber of Commerce welcomes the Falkland Islands Government's recent press statement on the second commercial flight.
Whilst individual members may have their own views, our engagement with the membership demonstrates that as a body the Chamber of Commerce is fully supportive of the initiative which is in line with key objectives in the Economic Development Strategy and the Tourism Development Strategy.
We look forward to receiving more detail on the proposal in due course. (PN).-
Chairman for the Board Falkland Islands Chamber of Commerce
Sao Paulo useless for fresh produce
AS the largest importer of Fresh produce, the proposed 2nd flight airport will be USELESS to us. FIG already (sensibly) bans direct import of several products from Brazil; others I know would be high risk and some others we want are not grown there.
This business is complicated to organise and relies on swift and flexible communication between me, my agent in Santiago, his suppliers, the airline and Chilean Export Departments. Freight space on a medium passenger plane varies daily according to passenger bookings and on the final day may be further cut due to excess baggage! Remember, 1500kg can easily get cut down to 500kg with only hours' notice and it's 25-30 different products and maybe only 2-5kg of some. This in Chile we have managed to do as Chile is small, efficient, geared to export and has a can-do attitude. NOT possible with Brazil. Sao Paulo is big but not big on quality and bio-security or secure produce exporter area.
Their government departments are very bureaucratic and corrupt. Big suppliers find us too small, and smaller suppliers do not meet standards. We tried by sea many times when SAAS went there and failed every time, it was a nightmare.
All my professional air travel contacts say it is crazy and a set-up. No airline would want to run two different routes to the same destination though different countries. Any airline, if they perceived there was the demand, would go from one flight a week from point A to point B and back to A, to TWO flights a week from A to B and back to A.
Because airlines aim to sell RETURN airfares only. That is how to keep prices down and more bums on seats – even I can see that. So clear professional logic says two flights a week from Santiago to Mount Pleasant is fine with differing intermediate calls en-route. Exactly as LATAM (then LAN) proposed to the Falklands (and approved by Argentina) in 2000: a monthly landing in Neuquen (neatly under flight route). But the Kirchner dynasty was elected and withdrew the permit just before it started.
The big user of the second flight should be cruise ship passenger exchanges, but US citizens and Canadians would need visas to transit through Brazil. Stopover facilities would be needed in case of rotaries at MPA, which has a cost and time implication. American tourist operators prefer to avoid Brazil.
So WHY make life difficult for your main clients?
Oil passengers? None until late 2020 anyway, and then only IF Argentina would allow Brazil to let them transit, which is currently forbidden and no way will Brazil annoy Argentina – not worth it!
Why go somewhere new when we have a friendly country with an efficient airline, good contacts, familiar language, corruption free, low bureaucracy and high standards? And a tourism link that works; most tourists from UK and Europe combine a Falklands holiday with a Chilean expedition-type one. Atacama, Torres Del Paine, Easter Island etc. The combined package SELLS! Even I can see a week on a beach in Brazil and a week in windy FI is NOT a good package to try and sell. There is a known demand from Chile, and the route would make the 2nd flight economic within a couple of years. Santiago also has good connections, not as good as Sao Paulo, but a midweek flight to London from MPN via Santiago will also mean same day connections and only 1.5-2hrs longer fly time than a Sao Paulo route.
Why go for an unknown quantity and risk large amounts of taxpayers' money in subsidy?
BUT far worse is the political risk. Any route to Sao Paulo will fly close to Buenos Aires and I guarantee that within a few years Argentina will force the airline to land there, it will find a way of stopping the existing Chile route and thus we have a choice: to have our commercial communications firmly under Argentine control – and sovereignty negotiations will then follow; OR refuse that and we then have NO flights other than MOD (if they will still take us) and imagine the devastation to our overall economy. And then quite possibly Jeremy Corbyn in Downing Street. Would he help us? Like hell, he'd push us hard yes!
Remember; Argentina still wants OUR HOMELAND, and it's clear, if that were to happen and we did not like it, we would have to find somewhere else to live whether you have been here five months or 185 years. The only thing different with Argentina in 2018 and Argentina in 1982 is no bombs and bullets flying about. Everything else from them is just the same and likely to remain so.
A second air link via Sao Paulo will mean the Argentine flag over Government House in 20 years; I would bet on it. Argentina is not stupid. (PN).
Tim Miller, Stanley Growers