Ex Finance minister Meirelles joins the Brazilian presidential race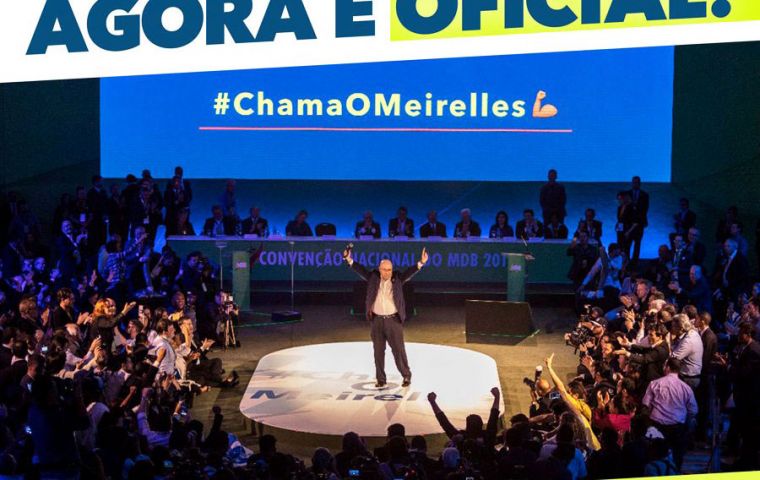 Henrique Meirelles, a former finance minister in unpopular President Michel Temer's government, joined Brazil's presidential race on Thursday, promising market reforms to rebuild the battered economy.
Meirelles, 72, is offering Brazil continuity after a tumultuous few years that saw the center-right Temer take over following the impeachment of leftist president Dilma Rousseff in 2016.
"My candidacy has the objective of restoring the spirit of confidence in Brazil," Meirelles said in Brasilia after securing the nomination of Temer's Brazilian Democratic Movement party, or MDB.
As part of Temer's team, former banker Meirelles was key to the self-declared mission to pull the country from its worst recession in history and attract investors to Latin America's biggest economy.
The country has since succeeded in returning to weak growth, but the austerity measures aimed at imposing fiscal discipline and slashing a bloated budget have been immensely unpopular.
That makes Meirelles, who also served as central bank chief under the 2003-2010 leftist administration of Lula da Silva, the favorite of the market community, but with almost no chance of contending seriously for the election, which starts with a first round on Oct 7.
In his address Thursday, Meirelles said he would pursue market reforms that he predicted would bring economic growth to four per cent a year - a long way from the one per cent in 2017, let alone the deep 3.5% slide in the two previous years.
The MDB is one of Brazil's biggest parties but until now has preferred to take power through alliances in coalition governments, rather than seeking the presidency directly.
Temer only reached the top because he was vice president to Rousseff in an uneasy left-right alliance.
The MDB's timing is being hit hard by widespread voter revolt against a corruption scandal that has revealed systemic embezzlement and pay-to-play schemes across Brazilian politics - with the MDB being among the worst offenders.
The party governs more than 1,000 cities, seven states and has the most seats in the Senate, with 18. It's the second party in Brazil's lower house, with 50 deputies.