Maduro escapes drone-attack during military ceremony; blames Colombia's Santos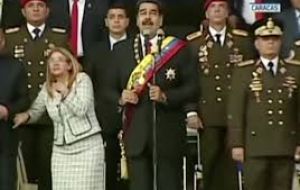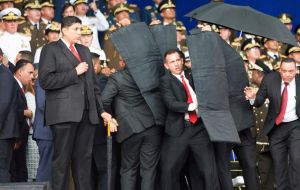 Venezuelan officials say that President Nicolás Maduro has escaped an assassination attempt unharmed. Maduro was giving a live televised speech in the capital city of Caracas on Saturday when, a government spokesman said, explosive-carrying drones went off near the president.

Communications Minister Jorge Rodríguez called the incident an "attack" on the leader, and said seven National Guard soldiers were injured.

Maduro had been addressing the national troops about the country's economy during an event the government says was meant to mark the 81st anniversary of the country's National Guard.

"At exactly 5:41 p.m. in the afternoon several explosions were heard," Rodriguez said in z national address immediately following the incident. "The investigation clearly reveals they came from drone-like devices that carried explosives."

However local media are reporting that firefighters at the site of the explosion are disputing the government's account of what it called an "attack."

Footage posted on Twitter by Venezuela channel NTN24 shows the moment the scene descended into chaos before the broadcast was cut off. Maduro is seen looking toward the sky in confusion. What looks to be hundreds of soldiers break formation before scattering.

The visibly shaken Mr Maduro said he saw a "flying device" that exploded before his eyes. "This was an attempt to kill me," insisted Maduro in an impassioned retelling of the events.

Within seconds, Mr Maduro said he heard a second explosion and pandemonium ensued.

Bodyguards escorted Mr Maduro out of the event and television footage showed uniformed soldiers standing ready to begin the parade, quickly scattering from the scene.

"This was an assassination attempt, they tried to assassinate me," Maduro said in a televised address, later Saturday evening. Maduro named Colombian President Juan Manuel Santos as being behind the attack, according to "initial investigations," without elaborating.

He also accused the Venezuelan extreme right oligarchy and exiled residents in Miami for the failed attack but put all the emphasis on President Santos who in a recent interview had anticipated that the Maduro regime was bound to fall, "no country can stand an inflation of a 1.000.000%"

Reuters cites a Colombian government source as saying Maduro's allegation was "absurd" and that Santos was celebrating his granddaughter's baptism on Saturday. "He is not thinking of anything else, least of all bringing down foreign governments," the source said.

Furthermore Reuters adds that "a little known group called the "National Movement of Soldiers in T-shirts" claimed responsibility for the attack. In a series of posts on social media, the group said it had planned to fly two drones but that snipers shot them down.

"We demonstrated that they are vulnerable. We didn't have success today, but it's just a question of time," said the group, which says it was founded in 2014 to bring together all of Venezuela's "groups of resistance."

Attorney-General Tarek William Saab said the attempted assassination targeted not only Mr Maduro, but the military's entire high command on stage with the President.

Prosecutors have already launched their investigation and obtained critical details from the suspects in custody, said Mr Saab, adding that he would give more details on Monday.

David Smilde, a senior fellow at the Washington Office on Latin America who has spent decades researching Venezuela, said the incident did not appear to be a staged attack by Mr Maduro's Government for political gain.

The "amateurish" attack prompted embarrassing images of Mr Maduro cut off mid-sentence with droves of soldiers running away in fear, making the President appear vulnerable, Mr Smilde noted. "He will use it to concentrate power," Mr Smilde said.

"Whoever did this, he'll use it to further restrict liberty and purge the Government and armed forces."

The event was just one more of many Mr Maduro routinely holds with members of the military, a key faction of Venezuelan society whose loyalty he has clung to as the nation struggles with crippling hyperinflation and shortages of food and medicine.

Maduro's government was the target of an assault in June 2017 when Óscar Pérez, a rogue pilot dropped grenades from a helicopter on the Venezuelan Supreme Court and fired on the Interior Ministry. One of Venezuela's most wanted men, Pérez died in January after government forces launched an attack on an alleged terrorist cell.