Construction executives confirm bribe payments in exchange for contracts under Kirchner governments
Tuesday, August 7th 2018 - 07:01 UTC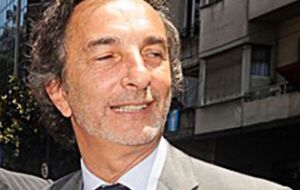 Argentine prosecutors questioned a construction executive related to President Mauricio Macri on Monday as part of a sprawling investigation into bribe payments made to the former government. Angelo Calcaterra, the former head of construction company Iecsa and Macri's cousin, told prosecutors he was told by officials in former President Cristina Fernandez' administration to pay cash in exchange for public works contracts.
Calcaterra is the latest executive to speak with prosecutors in the case since last Wednesday, when newspaper La Nacion published contents of notebooks kept by a driver in the former administration that detail how he transported bribe money from construction companies to government officials from 2005-2015.
Journalist Diego Cabot wrote in La Nacion over the weekend that he was given the notebooks in January by Jorge Bacigalupo, an acquaintance of the driver, Oscar Centeno. In a video interview with Cabot posted on La Nacion's website, Bacigalupo said Centeno gave him the notebooks in September or October.
Cabot wrote that he made copies of the notebooks and then gave them to prosecutors in April. La Nacion decided not to publish the story until law enforcement acted on the information, he added.
Prosecutor Carlos Stornelli is probing what he calls the "criminal conspiracy to illegally raise money" outlined in the notebooks. "They hold an abundance of data and provide a kind of x-ray of the system," Stornelli told local radio.
More than a dozen former government officials and business executives have been arrested since Wednesday, according to local media reports. Executives for some of the companies named, including Electroingenieria SA and Albanesi SA, have taken leaves of absence, according to securities filings.
On Monday Techint, one of the country's top conglomerates, said in a statement that it had answered questions from prosecutors and would continue cooperating after its offices were raided last week. It also promised an internal probe.
Ratings agency Moody's said in a statement that the "corruption scandal is credit negative for Argentine corporations." It cited "bribery investigations that led to the arrest of senior Argentine business leaders."
The scandal threatens to complicate a possible presidential campaign next year by Cristina Fernandez, who has been indicted in other graft cases but enjoys immunity from arrest as a senator.