Falklands and Pobjoy release set of 50p coins with five breeds of penguin in color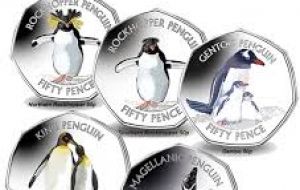 Following the success of the first set of Falkland Islands Penguin 50p coins in 2017, Pobjoy Mint has announced the release of a brand new set of five coins featuring the five breeds of penguin that are resident on the Islands at some point during the course of the year.
Known as the penguin capital of the world, it is hard to believe that back in the 18th Century these beautiful birds were victimized for oil and, in the case of some breeds, for their beautiful skin. Thankfully, conservation and awareness has changed this and the penguins are now a favorite with tourists.
This new series of coins features close-up head shots of the five penguins that inhabit the Falkland Islands, each shown in glorious color to enhance the detail. Pobjoy is also producing a new collector's album to hold the set which sets the coins against a beautiful image of a group of King penguins and includes information on each breed.
The coin features a headshot of a Macaroni penguin which is shown in glorious color which really highlights the most distinctive feature of this breed – the golden crests which start at the centre of the forehead and then sweep above the eyes. The obverse of the coin features the exclusive Pobjoy Mint effigy of Her Majesty Queen Elizabeth II.
The 2018 colored cupro-nickel coins have been issued on behalf of the Falkland Islands Each coin weighs 8 grams, measures 27.3 millimeters in diameter and has a mintage limit of 7,500 pieces.
The first coin retails for $14.95; orders are being accepted, with delivery to begin Aug. 15 (Aug. 22 in the United States).