Ivan Duque takes office as Colombian president; staunch ally of the Trump administration
Tuesday, August 7th 2018 - 07:23 UTC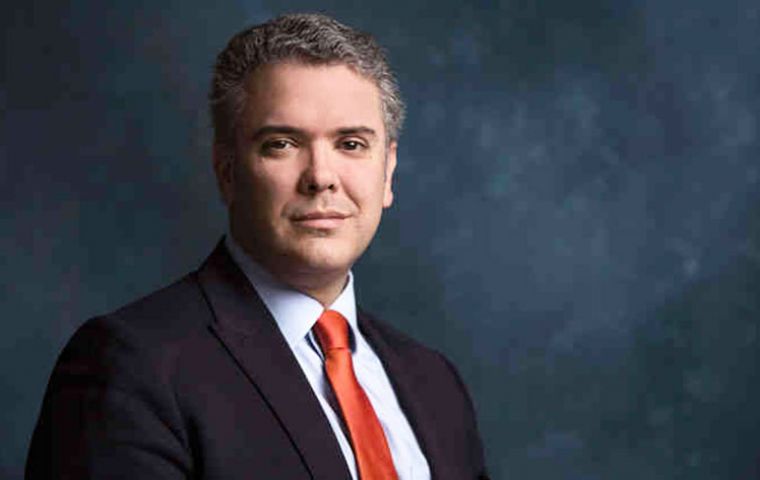 Ivan Duque, who will be sworn in as Colombia's president on Tuesday, is poised to become an unusually strong ally for the Trump administration after he made a project of cultivating ties with the White House and spotlighting shared views on drug control, counterterrorism and the unfolding political and economic crisis in next-door Venezuela.
He comes to power as the production of the plant that yields cocaine is at a record high, prompting warnings from President Trump and setting the tone for a potential return to a harsh, U.S.-backed crackdown on the drug trade in Colombia.
Duque, a conservative, hopes to turn Trump's concerns about drugs and safe borders into a stronger partnership with Washington while promising to revisit elements of a historic peace agreement with rebels struck in August 2016 with the vigorous support of the Obama administration.
Trump has had an uneasy relationship with many Latin American countries because of his disparaging comments about immigrants who come to the United States from the region and his seeming indifference to issues of concern in the Southern Hemisphere, punctuated by his decision to skip the Summit of the Americas in Peru in April.
Colombia has long stood as one of the strongest U.S. allies and a subject of rare long-standing bipartisan support as the recipient of some US$ 10 billion in security aid since 2000. But Trump stunned Republicans as well as Democrats when he threatened in the fall to decertify Colombia as a partner against drugs.
Now the Trump administration is embracing the 42-year-old, U.S.-educated Duque as a fellow law-and-order leader and an answer to the socialist meltdown in Venezuela, celebrating his June victory over a leftist opponent with a congratulatory phone call from Trump and a White House visit with Vice President Pence in July.
U.N. Ambassador Nikki Haley, a Trump confidante, will lead a U.S. delegation at Duque's inauguration. She will also visit the Venezuelan border, scene of an exodus of people fleeing hyperinflation and repression under President Nicolás Maduro, and get a firsthand look at one of the areas where coca plants are flourishing in Colombia.
In a separate meeting with Duque, Haley plans to reiterate that the White House considers coca production levels "unacceptable," as Trump's top drug control official said in June, while pledging continued support for a Latin American nation tightly bound to Washington for two decades.
Duque is expected to widen drug eradication and law enforcement efforts that have worried some human rights groups and international backers of Colombia's fragile peace agreement.
Left unclear for now is the level of White House enthusiasm for the peace agreement reached two years ago between the Colombian government and the Marxist FARC rebel movement. It ended five decades of war blamed for the deaths of more than 200,000 people, most of them civilians and millions of peasants displaced.
The Trump administration initially reserved judgment on whether to support the accord. Although the White House now officially backs the deal between the Colombian government and rebels from the Revolutionary Armed Forces of Colombia, or FARC, it has twice moved to slash funding to back the accord and has declined to name a new chief U.S. representative to oversee it.
The Trump administration is not hostile to the peace effort, "but they are not too involved in it," said Bernard Aronson, who was the State Department special envoy to the Colombia peace effort.
Haley voiced support for the U.N.-backed accord earlier, during a Security Council session in April, and congratulated Colombia for its handling of the flow of Venezuelan refugees, but she noted that "peace in Colombia remains an unfinished project."