Abortion debate: the "blue camp" trusts it has 37 votes (out of 72) in the Senate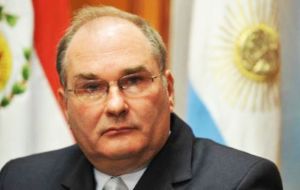 An Argentine ruling coalition Senator predicted that the decriminalization abortion bill that will be debated on Wednesday in the upper House, will be rejected since the so called "negative position will triumph". Ernesto Martinez, who represents the province of Cordoba and supports the bill, said that the "blue camp" had already got enough votes to win a majority.
This outcome however should not dramatize the "green camp", supportive of the bill, since "new opportunities are coming" in the battle for free, legal and safe abortion in Argentina.
Martinez said the existence of the bill in Congress was representative of a "breakthrough" in attitudes toward the termination of pregnancies in the country.
"Others they have felt the pressure of the Church from a political point of view and they have made an electoral calculation," he said.
Approved by Congress' lower house on June 14, the bill before the Senate would legalize abortion in the first 14 weeks of pregnancy and provide for conscientious objection for practitioners, but not for hospitals. In this Wednesday's August 8 vote, senators will have to decide on the version of the text adopted by the deputies.
The vote was expected to be tight, with a majority of the 72 senators needed to approve the text, if abortion is to be legalized. However, in the last few days two senators have said they will cast ballots against the bill, tipping the balance in favor of the blue, pro-life camp.
Over the weekend, Senator Silvina García Larraburu (Río Nego) said she would vote against, despite a previous declaration. She said the last week of campaigning had pushed her toward rejecting the bill. Likewise Senator Juan Carlos Romero confirmed he too would vote against the legislation, saying he would respect the "majority" view of the province Salta, he represents.
The two declarations mean that 37 senators have publicly come out saying they will reject the bill in its current form.
Over the weekend the green camp organized huge marches and demonstrations in the capital Buenos Aires and other cities, while the blue camp played its influences with the support from the powerful Argentine catholic church and Pope Francis, and held some minor rallies on the slogan "Save two lives".
"We were a million [when it was discussed in the Chamber of Deputies], let's be two million," chanted demonstrators, calling on the country's pro-choice supporters to gather on Wednesday in front of the Congress building as the Senate votes on the bill.
In Argentina, abortion is currently decriminalized in case of pregnancies that are a result of rape or when the health of women is endangered. According to NGOs, about 500,000 clandestine abortions are practiced every year and around a hundred women die from unsafe procedures.