Trump warns "anybody doing business with Iran will NOT be doing business with the United States"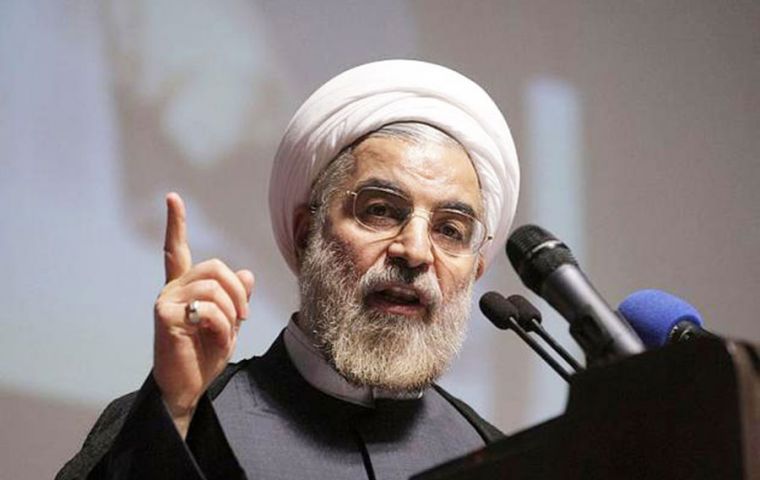 President Donald Trump has issued a strong warning to anyone trading with Iran, following his re-imposition of sanctions on the country. "Anyone doing business with Iran will NOT be doing business with the United States," the president tweeted.
Some re-imposed sanctions took effect overnight and tougher ones relating to oil exports will begin in November.
Iran's president said the measures were "psychological warfare" which aimed to "sow division among Iranians". The sanctions follow the United States withdrawal from the Joint Comprehensive Plan of Action, also known as the Iran nuclear deal, earlier this year.
The deal, negotiated during the presidency of Barack Obama, saw Iran limit its controversial nuclear activities in exchange for sanctions relief. Mr. Trump has called the deal "one-sided", "disastrous" and the "worst I've ever seen". He believes renewed economic pressure will force Iran to agree a new deal.
The European Union, which remains committed to the original agreement, has spoken out against the sanctions, vowing to protect firms doing "legitimate business" with Iran.
On Monday Trump had said that Iran faced a choice to "either change its threatening, destabilizing behavior and reintegrate with the global economy, or continue down a path of economic isolation".
"I remain open to reaching a more comprehensive deal that addresses the full range of the regime's malign activities, including its ballistic missile program and its support for terrorism," he said.
Iranian President Hassan Rouhani said the US government had "turned their back on diplomacy".
"They want to launch psychological warfare against the Iranian nation." he said. "Negotiations with sanctions doesn't make sense. We are always in favor of diplomacy and talks... but talks need honesty."
The foreign ministers of Germany, the UK and France released a statement on Monday that said the nuclear deal remained "crucial" to global security.
They also unveiled a "blocking statute", which is intended to protect European firms doing business with Iran despite the new US sanctions.
However, German car and truck maker Daimler, which announced a joint venture in Iran last year, confirmed this week that it has now ceased activities in the country.
But the Iranian economy is not in good shape. Rising food prices, unemployment and even poor water supplies have led to protests in a number of cities. Demonstrations in Tehran in June were said to be the capital's biggest since 2012.
How much they could suffer under the new US sanctions policy is hard to determine, but one definite link is the effect on Iran's currency. It lost around half of its value after Mr. Trump announced the US withdrawal from the nuclear deal.
Iran acted by easing its foreign exchange rules on Sunday, and the rial has strengthened by 20% since then. Iranians have been hoarding gold as a safeguard, pushing it to a record high in Tehran.
The sanctions may bite hardest in November, when the US blocks Iranian oil sales. This could halt about half of Iran's exports of some two million barrels a day, although Iran may look to China and Russia to keep its industry afloat.
The International Monetary Fund said in March that Iran's net official reserves could decline this year to US$97.8bn, which would finance about 13 months of imports. And analysts at BMI Research say Iran's economy could contract by 4.3% in 2019.
However, Barbara Slavin, of the Future of Iran Initiative at the Atlantic Council, told the Wall Street Journal that when sanctions hit hard, it often means ordinary people become "totally dependent" on their government and so sanctions do not tend to topple regimes.