Brazilian round of presidential candidates debate takes off...without Lula da Silva
Friday, August 10th 2018 - 06:11 UTC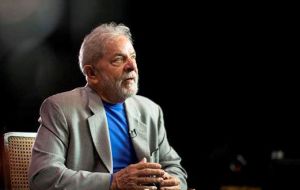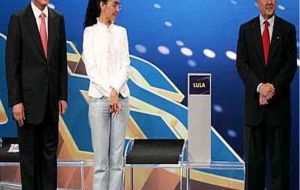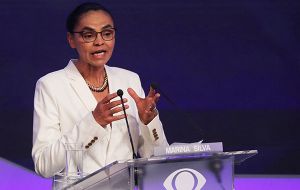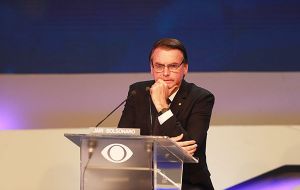 Brazil is staging its first presidential election debate with eight of the crowded field locking horns but also one notable absentee – jailed frontrunner ex president Lula da Silva. Thirteen candidates have officially entered the election, which starts with a first round October 7 and is almost sure to go to a run-off two weeks later.
With deeply unpopular President Michel Temer not seeking a new term and Latin America's biggest country in a deep funk after years of recession and corruption scandals, it is the least predictable election in decades.
The debate on TV Bandeirantes will not feature four of the candidates, who have too insignificant a presence in Congress to qualify. However, the real missing piece in the puzzle will be former two-term president Lula, who leads in opinion polls but is serving a 12-year sentence for corruption and looks almost sure to be barred from the ballot.
A court rejected his request to take part in the debate by jail cell video link.
So far, TV Bandeirantes has not responded to requests from Lula's Workers' Party to mark his absence with an empty chair at the debate, or to allow his vice-presidential pick, former Sao Paulo mayor Fernando Haddad, to take his place.
However, for the Workers' Party, even an absent Lula is a powerful weapon. With around 30% in the polls, he would lead a first round and easily win a run-off. Because he has lost an appeal to his corruption conviction, he in theory will be barred under the Brazilian clean slate law. But Lula's lawyers are pushing for an escape route in the courts.
The main candidates due to appear during the debate include right-winger Jair Bolsonaro, who is polling in second place after Lula, and his next biggest rivals: centre-right former Sao Paulo governor Geraldo Alckmin and environmentalist Marina Silva.
The October polls will also see elections for 27 governors, all 513 congressional lower house deputies and two-thirds of the 81 senators. But so far voters appear hardly enticed by the prospect. A poll published this month by the National Confederation of Industries showed that 45% of Brazilians "pessimistic or very pessimistic" about the elections.
While voting is mandatory, a third plan is to cast spoiled ballots, the poll found. Other polls point to between 33% and 41% of the electorate defying the law to skip voting.