'K notebooks' corruption: companies won't be punished for what employees may have done
Saturday, August 11th 2018 - 09:37 UTC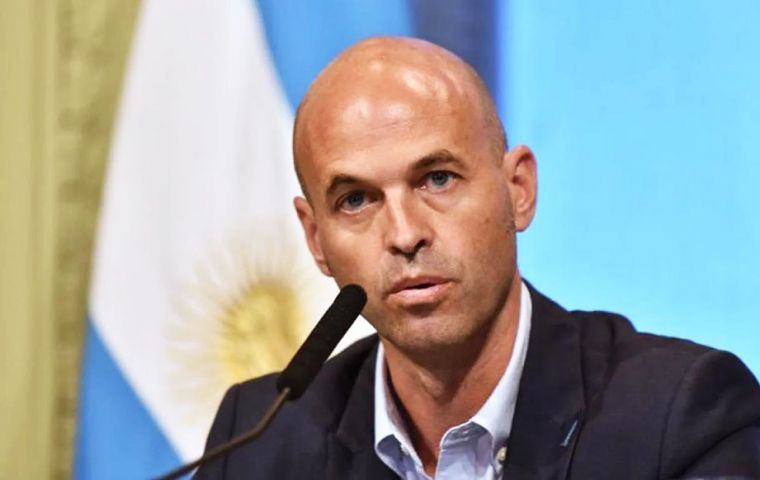 The Argentine government will allow companies whose officials are named in a corruption probe to continue work on existing projects and to bid for new ones. Contracts will be honored and companies won't be punished for what employees may have done, Transport Minister Guillermo Dietrich said in an interview in Buenos Aires.
"We won't limit companies, unless a judge says otherwise," Dietrich said. "What is happening is unprecedented, and the justice system needs to investigate, prove, and issue a final ruling."
Faced with the threat of a recession in the second half of the year, the government plans to push forward with President Mauricio Macri's US$ 35 billion infrastructure agenda, including public private partnership projects. Dietrich delivered the message to nine banks, including HSBC and ICBC, in a meeting on Friday. The corruption scandal that has enveloped the country won't halt that process, he said.
A federal judge is investigating claims that construction companies, energy suppliers and electricity generators paid hundreds of bribes to members of the former government of presidents Cristina Fernandez de Kirchner and Nestor Kirchner. Last August first, La Nacion published the notebooks of a former driver of a government official that is said to detail cash bribes collected from 2005 to 2015.
While the corruption probe won't halt future private-public partnerships, other issues may delay some of them, Dietrich said.
A project to extend three train lines and build a connecting station in the City of Buenos Aires will be postponed, he said. The government would have had to auction additional work that won't be possible under the budget conditions set by the International Monetary Fund for a US$50 billion credit relief line.
Officials will meet with investors in the U.S., Europe and Asia as soon as the end of August to discuss other projects, Dietrich said. The next tenders will be for additional highways, power transmission lines and a railway to connect shale deposits in Vaca Muerta to the Atlantic port of Bahia Blanca.
"We have complete certainty that there were no cash bags, or handbags, or wallets, involved in our tenders," Dietrich said. "Beyond the short-term uncertainty raised by the notebooks, this also helps consolidate that Argentina has changed, there's no more impunity."
Companies that were named in the probe include power generators Albanesi SA and MSU Energy SA, the construction companies IECSA SA and Grupo Roggio, and Grupo Techint, which owns the oil exploration company Tecpetrol SA. Albanesi was forced to cancel a bond sale. Techint, a unit of MSU and Roggio were among companies that bid for the first series of highway projects, but whose consortiums did not win projects.
The 'K notebooks scandal' has been considered similar to the major Brazilian Lava Jato (Car Wash) corruption, which has seen tens of politicians and contractors sentenced to jail over bribes involving the giant Petrobras oil conglomerate.
But the Argentine government apparently does not want to repeat the original decision of the Brazilian government which banned all companies involved in the Lava Jato scandal from been awarded government contracts.
The President Michel Temer administration ended back stepping on the decision given the impact of those contracted companies for the Brazilian economy.