Three more graves have names in the Argentine military cemetery at Darwin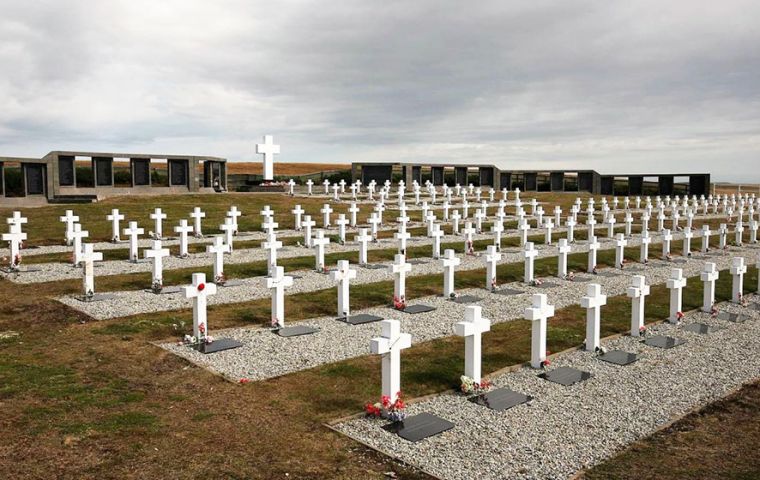 Argentina confirmed on Friday the identification of three more soldiers fallen during the South Atlantic conflict in 1982, and whose remains rest in the Argentine military cemetery at Darwin in the Falkland Islands.
The new identifications brings the total number of unknown soldiers who will now have a name to 96. They are Luis Guillermo Sevilla from the province of Salta, Hector Walter Aguirre, born in Buenos Aires City and raised at Santiago del Estero. No name was revealed for the third combatant, on request from the family.
The information was delivered on Friday afternoon by Argentina's Human Rights Secretary. The conscripts, Luis was 18 and Hector, 19 when they fell on 28 May during combat at "Condor" air base in East Falkland, according to the official release. Post mortem they were promoted to Corporal and awarded the "Argentine Nation to bribery in combat" medal.
In 1988, the Argentine congress passed Law 24.950 declaring all soldiers buried in the Falklands as "National heroes".
The Human Rights Secretary also reported that officials from the office had travelled to Salta and Santiago del Estero provinces to officially notify their next of kin of the identifications.
The identification process of the originally 122 unmarked graves of Argentine soldiers buried at Darwin military cemetery, is a joint effort agreed by the UK and Argentina, and supported by the Falkland Islands government, as a humanitarian operation under the guidance of the Red Cross International Committee.
A team of international forensic experts worked last year for several months in the Falklands collecting DNA samples from the remains at the graves that then were cross checked with Argentine relatives. And again double checked in labs in Argentina, UK and Spain.
Finally the humanitarian task force headed by the Red Cross International Committee last December reported that 90 graves would no longer have the black marble tombstone reading "Argentine soldier, only known to God", but their full identification. Last April in another joint effort, the fallen combatants next of kin travelled to the Falklands, to the Argentine military cemetery at Darwin, for a day of reflection and prayers.
However Argentine forensic experts kept working and have since, so far this year helped give a name to the remains of another six unknown graves.
"We continue committed with this humanitarian mission which enables us to close wounds and the State to deliver replies to the heroes of our Malvinas heroes", added the Human Rights Secretary release.
The humanitarian identification process has moved forward under the umbrella of a new constructive and cooperation understanding between Argentina and the UK, and the government of the Falkland Islands, which was agreed in 2016.