Cristina Fernandez testifies on the "K notebooks" corruption scheme
Monday, August 13th 2018 - 10:09 UTC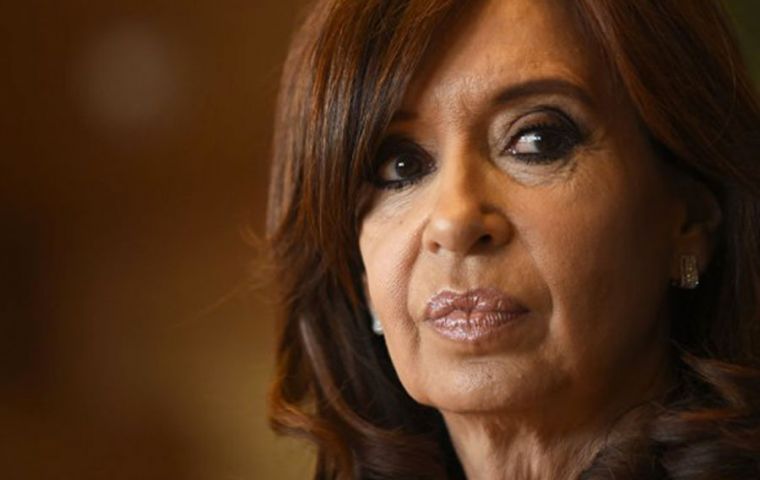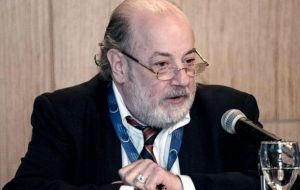 Argentine ex president Cristina Fernandez has called on her followers not to accompany her when, this Monday, she gives testimony at the Court House before Judge Claudio Bonadío in relation to the so called "K notebooks".
"On Monday I must be present at Comodoro Py (Court House), as I have done every time I was summoned. To those who were planning wanted to accompany, please do not do so, I beg you", twitted on Sunday the Senator and former president.
"Let's put all our efforts in accompanying and supporting all those who are really having a rough time, really rough, because of this economic and social catastrophe which is the administration of Mauricio Macri".
According to sources close to the former president, her presence in court will be brief since she will deliver a written document and will not answer questions.
Cristina Fernandez is a suspect of the bribes scheme linked to public works contracts, allegedly mounted by her late husband and former president Nestor Kirchner, which also involves many former officials and leasing businesspeople from Argentina. Among the officials are ex Planning minister Julio De Vido and his deputy, Roberto Baratta.
Outstanding figures from the private sector include top managers and CEOs from leading public works contractors and the former president of the Argentine Construction Chamber, Carlos Wagner, who usually stood in the photos next to the former president when the opening ceremonies.
Mrs. Kirchner has been previously to testify on other cases since leaving Casa Rosada. In April 2016, she was summoned to testify on the dollar future market, and was surrounded by her followers, left a written statement and left. A second time was in October 2017, for the alleged cover up of Iranians supposedly involved in the bombing of the Jewish community AMIA building in downtown Buenos Aires. This time the number supporters outside the court was minimal.
The current case refers to the records kept in notebooks, such as those used by school children, by a driver of the Planning Ministry, who meticulously wrote down whom he transported, time, distance, calling places and the alleged sacks full of money collected from contractors companies and delivered to Nestor Kirchner and after his death to De Vido. It is estimated that in the 2005/15 years recorded in the notebooks, some 160 to 200 million dollars were collected.
Most business leaders questioned have not denied payments but have argued they were contributions to political campaigns. However a few have requested and/or secured plea bargains.
Until the corruption notebooks came to light exposed by La Nacion, Senator Cristina Fernandez was rapidly recovering her political image as the economic situation in Argentina deteriorated, and was considered a serious hopeful for the 2019 presidential election. She actually had a few points more of support than president Macri, according to opinion polls. However the case and its stigma evolves will be decisive both for Cristina Fernandez and Mauricio Macri.