Argentine Senate honors participants of the Darwin military cemetery identification process
Wednesday, August 15th 2018 - 08:52 UTC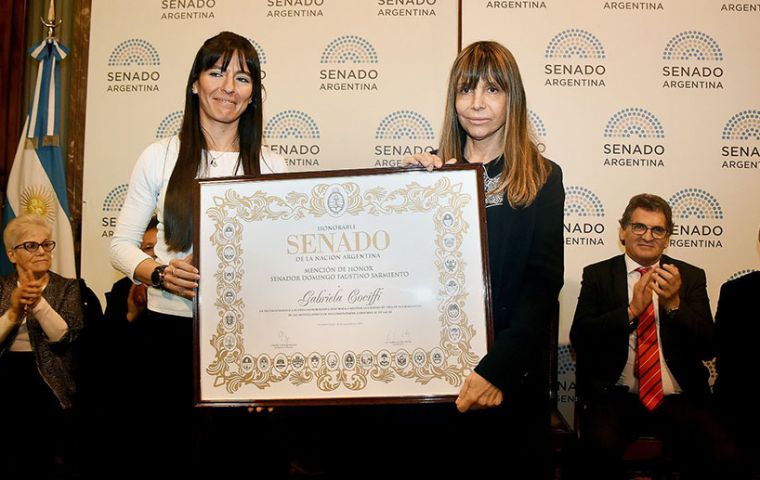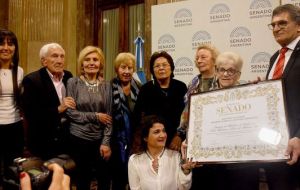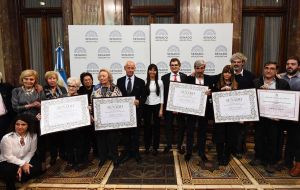 In a solemn ceremony on Tuesday the Argentine Senate distinguished the several participants in the recent identification process of the combatants buried in the Argentine military cemetery in Darwin.
The "Senator Domingo Faustino Sarmiento" Mention of Honor was awarded to individuals and organizations alike, including journalist Gabriela Cociffi; Malvinas war veteran Julio Aro; British Army retired Colonel Geoffrey Cardozo; the Commission of Relatives of the Fallen in Malvinas and South Atlantic Islands, as well as the Argentine Forensic Anthropology Team.
Senator Pamela Verasay organizer of the event recalled that few causes identity and mobilize Argentines as the Malvinas cause, which is above politics, beliefs, creeds, gender or social condition, it's something that moves the whole community.
"When the conflict came to an end, that day the relentless ticking of time for the definitive recovery of our democracy started. It was an imperfect process, not devoid of contradictions, the beginning of this cycle had in the war veterans an unacceptable lack of attention and care, it was the ominous dictatorship which was retreating closing one of the darkest chapters of Argentine history, but also the recently born democracy had other priorities", said the Senator.
But despite all this, "we must underline the commitment and impeccable team work, overcoming innumerable hurdles along the way. The confluence of efforts opened the way to reach what seemed something impossible. The Argentine foreign ministry, the British embassy, the Aeropuertos Argentina 2000 company, the Red Cross, journalists, all together made this humanitarian feat possible".
Geoffrey Cardozo emphasized that with "this team we managed what was almost impossible: return the human being that had been lost, return a son to his mother, to his family, return a hero to the motherland".
The identification process of the 123 unknown graves that were only marked as "Argentine solider, only known by God" was started over a decade ago, the effort of several individuals such as Julio Aro and Gabriela Cociffi, and the Malvinas Families commission. But it really took off under the umbrella of a new constructive and cooperation understanding between Argentina and the UK, and with the support of the Falkland Islands, which was agreed in 2016.