London Police in seconds neutralize a lone driver attack on Parliament: three injured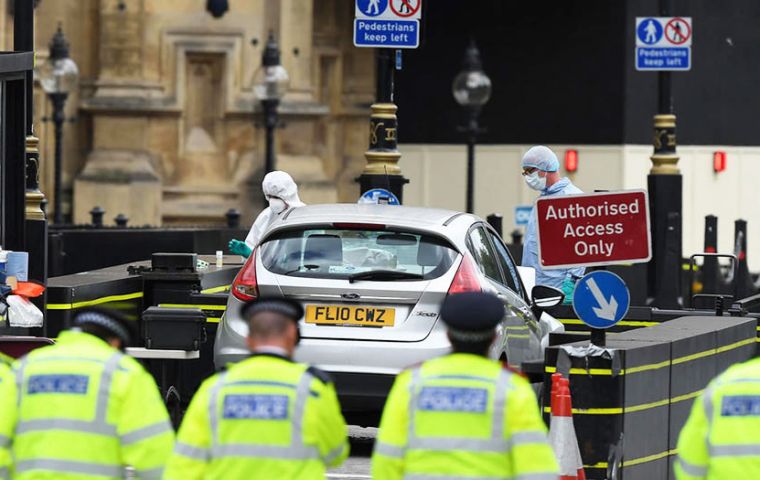 London's mayor is urging residents and tourists to remain calm and vigilant following the latest terror attack in the city. The driver of a car injured three people before crashing into barricades near Parliament. A security camera captured the moment the silver Ford came speeding down the road. It hit a group of cyclists, jumped the sidewalk and then smashed into the heavy metal security barrier.
It took just seconds for London police to arrive on the scene. Guns drawn, they surrounded the car, arrested the driver and led him away in handcuffs.
Emergency services treated three people on the scene but there were no life threatening injuries. That's probably because of special anti-terrorist barriers erected at strategic locations after last year's car ramming on Westminster Bridge which killed five people.
The car was driven from Birmingham by a 29-year-old British man, according to police. When he got to the scene, he staked out Westminster before smashing his car.
Police are still trying to determine his motive but are treating it as a terrorist incident. Similar attacks, like the one which killed 86 people in Nice two years ago, and the one in New York City which killed eight, shows that using a vehicle as a deadly weapon has become a frequent terrorist tactic.
U.S. and British intelligence are sharing information regarding the incident. But at this stage, Scotland Yard believes there is no ongoing threat connected to the attack.
"Given that this appears to be a deliberate act, the method and this being an iconic site, we are treating it as a terrorist incident and the investigation is being led by officers from the Counter Terrorism Command," Metropolitan Police assistant commissioner Neil Basu said during a news conference.
Most of the cyclists managed to jump off their bikes, but a woman was clipped by the hood of the car as it passed, he said.
Streets around Parliament Square were blocked off as police vehicles swarmed the area, video posted on social media showed. More than a dozen emergency vehicles were on the scene. Wider cordons have since been removed, while cordons around the immediate crime scene will remain for some time, police said.
The Westminster subway station re-opened after it had been closed earlier, the official Transport for London feed said in a tweet.
President Donald Trump weighed in, tweeting, "Another terrorist attack in London...These animals are crazy and must be dealt with through toughness and strength!"
The threat to the U.K. remains severe, British Prime Minister Theresa May said in a statement.
"I would urge the public to remain vigilant -- but also to come together and carry on as normal, just as they did after the sickening attacks in Manchester and London last year," she said. "The twisted aim of the extremists is to use violence and terror to divide us. They will never succeed."