Supporters of Lula march on Brasilia to converge at the Supreme Electoral Court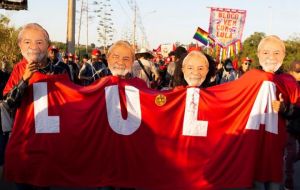 Supporters of former Brazilian president Lula da Silva marched on Brasilia on Tuesday to support his attempt to take part in presidential elections, despite serving a prison sentence for corruption.
The New York Times published an article by Lula on Tuesday in which he branded his sentence — which has been confirmed by an appeals court after a trial — as "the latest phase in a slow-motion coup" against Brazil's left.
The "extreme right wing is seeking to knock me out of the race," Lula wrote.
Lula leads in opinion polls ahead of the October 7 first round of presidential voting. However, he is almost sure to be barred under Brazil's clean slate law.
In addition, his polling results mask equally strong rejection rates, making him the most popular but also arguably the most divisive politician in the country.
For the approximately 1,000 people, divided into three groups converging on Brasilia, Lula's absence from the election would be a travesty.
The activists from the Workers' Party and the Landless Workers Movement were due to meet up Wednesday outside the Supreme Electoral Court in the capital to officially register Lula's unlikely candidacy.
With them was former Sao Paulo governor Fernando Haddad, who is designated as vice president on Lula's ticket.
Lula, 72, was convicted of taking an apartment as a bribe from a big construction company. The case was part of a mass of graft prosecutions conducted in Brazil's giant "Car Wash" probe into systemic embezzlement and bribery throughout the country's political parties.
The electoral court has until September 17 to rule on Lula's candidacy registration. If he is barred, Haddad would likely run in his place.