"The press is not the enemy of the people", says unanimous resolution by the Republican-led US Senate
Friday, August 17th 2018 - 08:16 UTC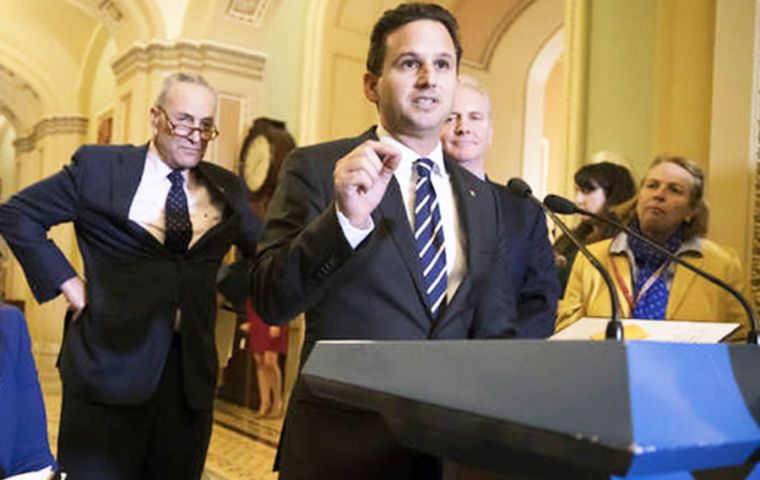 The Republican-led Senate passed a resolution affirming its commitment to protecting freedom of speech and condemned recent attacks on journalists and members of the media. In a resolution brought forth by Hawaii Sen. Brian Schatz, a Democrat, and Senate Minority Leader Chuck Schumer, lawmakers affirmed "that the press is not the enemy of the people," which passed by unanimous consent.
The resolution also reaffirmed "the vital and indispensable role the free press serves to inform the electorate, uncover the truth, act as a check on the inherent power of the government, further national discourse and debate, and otherwise advance our most basic and cherished democratic norms and freedoms."
It condemned "attacks on the institution of the free press" and said the Senate "views efforts to systematically undermine the credibility of the press as a whole as an attack on our democratic institutions."
The resolution also mentioned quotes from previous US presidents, including the Founding Fathers, who revered a free and independent press.
"Throughout history, the free press has always kept our government in check when it has gone astray, perhaps more than anywhere else around the world, and the Congress has a duty protect the press's First Amendment right," Schumer said in a statement.
"We rely on reporters and newscasters to keep our leaders honest, accountable, and always working in the best interest of the American people. I truly believe that America always solves its problems and combating dangerous and irresponsible attacks on journalism is no exception."
Schatz admitted he was "a little less surprised" it passed, noting the Senate's adoption of a resolution last month to reject the floated proposal to let the Russian government interrogate Americans, including former US Ambassador to Russia Michael McFaul.
"So I think the mouse is trying to roar wherever it can. Wherever they make the judgment that maybe the president isn't watching every twist and turn of this," Schatz said, implying that Republicans often fear rebuking Trump in public. "But it's important for all of us who swore an oath to defend the Constitution that we actually do something."
The resolution comes in the wake of polling showing that a majority of Republicans view the news media as the "enemy of the people," which Trump himself often brands journalists and news outlets when he is upset by certain coverage.