Messages of condolence and praise, from all over the world for Kofi Annan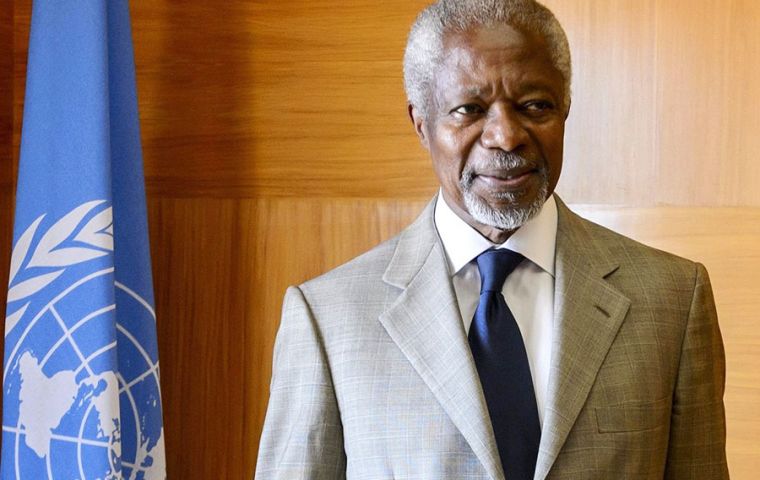 Kofi Annan, the only black African to become UN secretary-general, has died. The 80-year-old "passed away peacefully on Saturday after a short illness", the foundation named after him said. His home country, Ghana, has declared a week of national mourning. Condolence messages have been pouring from all the world and international figures.
The career diplomat died in hospital in the Swiss city of Bern. He had been living near Geneva for several years. He was awarded the Nobel Peace Prize in 2001 for helping to revitalise the international body, during a period that coincided with the Iraq War and the HIV/Aids pandemic.
Annan served two terms as UN chief from 1997 to 2006, and was awarded a Nobel Peace Prize for his humanitarian work. He later served as the UN special envoy for Syria, leading efforts to find a solution to the conflict.
In a statement announcing his death, the Kofi Annan Foundation described him as a "global statesman and deeply committed internationalist who fought throughout his life for a fairer and more peaceful world".
"Wherever there was suffering or need, he reached out and touched many people with his deep compassion and empathy."
Kofi Annan described his greatest achievement as the Millennium Development Goals which - for the first time - set global targets on issues such as poverty and child mortality.
However, Annan was not immune from criticism. His critics blamed him for the UN's failure to halt the genocide in Rwanda in the 1990s when he was head of the organisation's peacekeeping operations.
Later, after the US-led invasion of Iraq, he and his son were accused of being involved in the "oil for food corruption scandal" that led some to call for his resignation, though he was later exonerated.
He succeeded another African, Boutros Boutros-Ghali of Egypt, as UN Secretary-General.
Annan was born in 1938 to a prominent family in Kumasi, Ghana's second-largest city. The son of the governor of the Ashanti province under British colonial rule, Annan attended top schools in Ghana, Switzerland and the United States.
Annan started his U.N. career at just 24, working as an administrator at the World Health Organization. He quickly rose through the ranks, serving as head of personnel for the U.N. mission in Cairo, deputy director of the UNHCR in Geneva, and deputy U.N. secretary-general and under-secretary-general for peacekeeping. In 1997, he was elected secretary-general, making him the first person from Sub-Saharan Africa to hold the position.