Latam announces 2Q results; currencies' turbulence has hit shares, down 25%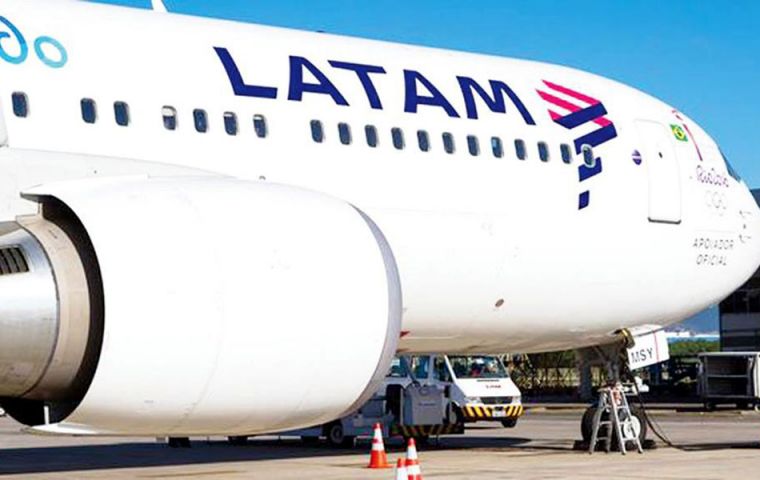 With this year's sell-off in emerging markets assets hasn't just dented investor returns and confidence, but also weighed heavily on global companies with exposure to developing economy currencies. One that is LATAM Airlines, by far South America's biggest carrier and among the world's largest by network connections.
With its relatively heavy reliance on Brazil and Argentina as both source and destination markets, the company is vulnerable to the wild economic and financial fluctuations with which South America is often associated.
Amid broader emerging market turbulence, Brazil's Real has lost about 15% this year, while the Argentine peso is down more than 40%.
Analysts expect this year's emerging market sell-off to have driven the carrier into a second-quarter loss when it reports this Tuesday. Estimates range from a net loss of US$ 18.5 million to one of US$ 130 million, compared with a loss of US$ 128 million in the same period last year, again because of currency hits. Load factors have also fallen throughout the quarter because of overcapacity.
The Santiago-listed shares are down about 25% for the year.
Upcoming elections in Brazil and further political and economic instability in Argentina could prove a further drag on the company's business in the rest of 2018, analysts warn, with intensifying competition on some routes making it harder for the carrier to improve margins with fare increases.
LATAM's chief commercial officer Roberto Alvo agrees that doing business in Latin America is not for the faint-hearted. "This is how South America has been, unfortunately, for many years" said Mr. Alvo. "So we are used to seeing this and adjusting very quickly to these changes."
Currency hedging strategies help, he says, as can market diversification.
"Although we are heavily exposed to Brazil – 40% of our operations touch Brazil in one way or the other - a significant portion of the revenue is generated either in Europe or the US, or the rest of South America, so we have a relatively better level of diversification than most operators in the region," says Alvo. "This helps us in a way to counterbalance."
The added attraction to tourists, travelers and family of South American countries when their currencies weaken can also help to offset financial losses from foreign currency movements. Brazil, Argentina and Chile are already popular with travelers - and more so when their currencies slide against the greenback and other widely-traded currencies.
"It doesn't necessarily happen quickly," says Alvo, "but what we see is a gradual switch in direction of the flows in people travelling from Argentina to people travelling to Argentina, so in a way that compensates in the medium term.
"I think that our footprint in South America, with the fact that we operate in Europe and the US with some scale, helps us to administer this high volatility relatively well," he said.
As part of a broader diversification strategy, LATAM has been ramping up its services between Santiago, its Pacific hub, and Australia. Less than a year after making history by launching the world's first non/stop flight between Melbourne and Chile, the airline has just added two services for a total of five.
Added to the daily LATAM flights between Sydney and Santiago via Auckland, the new services could eventually mean an annual 20% increase, to 300,000, in the number of passengers making the 12- to 14-hour haul between Australia and Chile.
Demand is driven by shared business interests – particularly in mining, wine and fresh food – and in tourism and family connections between Australians and Chileans, Argentines, Brazilians and Colombians.