Labour leader Corbyn to propose tax on tech giants to pay for public interest journalism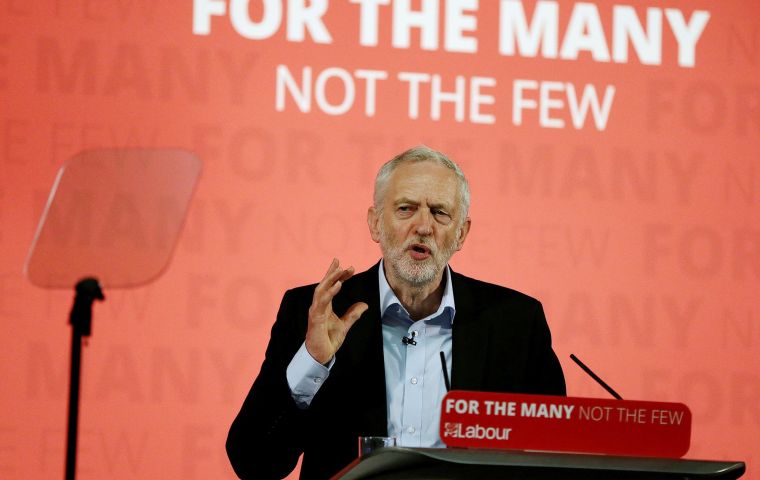 A windfall tax could be levied on tech giants such as Google, Amazon and Facebook to pay for public interest journalism, Jeremy Corbyn is expected to announce. The Labour leader will call for radical reform of the media landscape in a speech at the Edinburgh TV Festival.
Other ideas include a "digital license fee" - paid for by big tech companies and internet providers - and publishing social class data on BBC employees.
The Conservatives said the "internet tax" would increase consumers' bills.
Low levels of trust in the media cannot be ignored, Mr Corbyn will say on Thursday in the Alternative MacTaggart lecture - a speech which will be watched closely as a guide to how a Labour government might approach media policy.
The Labour leader, who has been subject to fierce attacks by sections of the British press and has criticized leading tech firms over tax avoidance and data misuse, will claim journalists are being "held back" by media tycoons and, in the case of the BBC, by excessive state influence.
Without greater investment in investigative, public interest journalism, there is a risk that a "few tech giants and unaccountable billionaires will control huge swathes of our public space and debate", he will say.
Existing not-for-profit news organizations, like the Bureau for Investigative Journalism, should be given charitable status, he will say, while new "news co-operatives" could be created with a remit to report on local government, private contractors operating public services, and regulated bodies.
These, he will argue, could be paid for either through a content sharing and advertising revenue agreement with Google, similar to that agreed in France or Belgiumin 2013.
If it is not possible to "tap up the digital monopolies that profit from every search, share and like we make", he will say a Labour government would be prepared to explore a one-off tax on the profits of the market-leading search engine and other platforms.
"The best journalism takes on the powerful, in the corporate world as well as government and helps create an informed public," he will say.
Mr Corbyn has long supported a review of media ownership rules amid longstanding concerns within the party about the power of companies such as Rupert Murdoch's News Corp and 21st Century Fox.
Labor's 2017 manifesto promised to give regulator Ofcom more powers to protect media plurality and to reconsider rules on who is fit and proper to run TV and radio stations.
Excerpts of the speech released by the Labor's leader's team do not refer specifically to ownership rules or to the current takeover battle for Sky or the future of Sky News - set to change ownership as part of the deal.