Norwegian Air planning to operate domestic flights in Brazil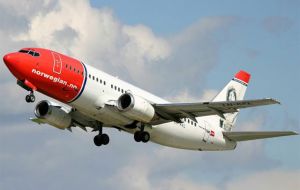 Low-cost Norwegian Air is interested in operating domestic flights within Brazil, a government official said, as it plans its debut in Latin America's largest economy in March with a flight between Sao Paulo and England.
The airline's interest was made public by Brazil's tourism minister Vinicius Lummertz, who said Norwegian can start operating international flights with approval earlier this month from Brazilian flights regulator Anac.
Foreign airlines cannot incorporate in Brazil, but Congress is reviewing a proposal to change the law. If approved, Lummertz said, Norwegian could slash domestic flight costs by half.
The Brazilian domestic market is dominated by four main airlines, Latam Airlines Group SA, Gol Linhas Aéreas Inteligentes SA, Azul SA and Avianca Holdings SA, all of which posted net losses in the most recent quarter, due to higher oil prices and local currency devaluation.