Falklands wants to host the 2033 Island Games: 'visionary' but with great local enthusiasm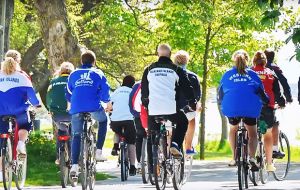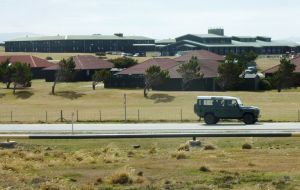 Members of Legislative Assembly were collectively enthused about, "being a bit visionary," regarding the idea of the Falklands hosting the 2033 Island Games, Falkland Islands Overseas Games Chair Mike Summers told Penguin News.
Mr. Summers said he had been suggesting to organisers and others for some time, "that the Falklands host the games in 2033. It normally raises a bit of a laugh. But actually we are getting quite serious about this because we are reasonably convinced from a sporting perspective that we could do it."
He said this would of course depend on the sporting developments planned for the Rugby Pitch going ahead and: "providing we can get a working arrangement with Mount Pleasant to use some of their facilities, we could host probably a dozen of the sports in the Island Games without any great difficulty."
An island has to include ten sports at the Games but: "the one thing we don't have at the moment is an athletics track so we would have to have that or they simply wouldn't agree to let us host it," he explained.
After that it's all about logistics and accommodation but: "Anybody you talk to will tell you what all the difficulties are. Our job is to focus on what the solutions might be and how we think we might be able to host a Games."
The Island Games Executive is planning to visit the Falklands in 2020 for their Spring Meeting, "at our invitation," said Mr. Summers.
The Falkland Islands Government has agreed to part sponsor the visit: "They will pay for the accommodation. We can then talk through with them how we think we might host a games and put to them a skeleton of what we think we might do."
He said a host island normally used a mix of hotel space and schools and/or barracks for accommodation, and by 2033 there might be more of both. Home stays would also be an option.
This would all be "contingent on Sealion [oil exploitation] going ahead," for the Falklands to have the money and capacity he qualified.
In terms of getting people to the Falklands: "1,500 people is five jumbo jets from Sao Paulo, so it's not beyond the bounds of possibility," he said.
The Falkland Islands Government is going to nominate a Member to a task group that will be set up by FIOGA with a view to coming up with a skeleton proposal to put to the Executive to convince them it is a "serious" initiative said Mr. Summers.
2033 is an important year; the 200th anniversary of British settlement at Port Louis: "what better way of kicking it off with a big festival of sport. 1,500 young people from all over the place; it will be an amazing thing to do."
In relation to organisation he explained that it was usual for countries to hire sporting event organisers: "There are people who create these kinds of events for a living; you don't have to invent everything yourself … it has to be properly organised." (PenguinNews).