Brazil's Supreme Court will rule on Lula's presidential candidacy in September
Tuesday, August 28th 2018 - 07:32 UTC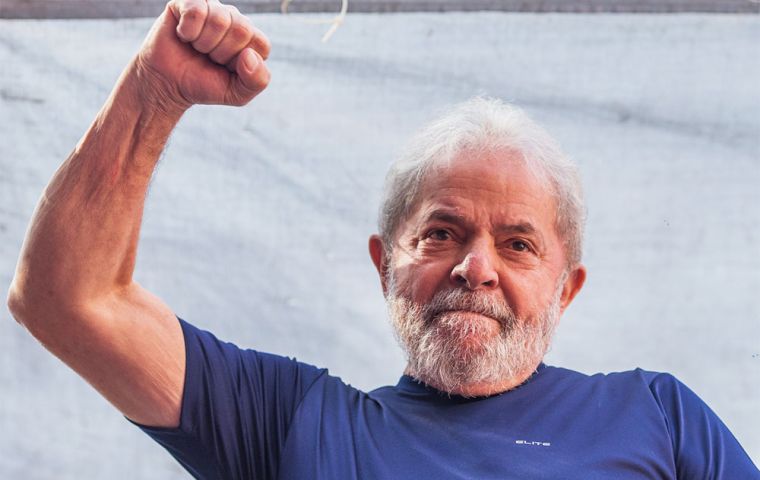 Brazil's Supreme Court will weigh in September an appeal by jailed former president Lula da Silva to be set free so he can join the presidential campaign already under way, a court spokesperson said on Monday.
Lula was jailed in April to start serving a 12-year sentence on a corruption conviction that will almost certainly disqualify him from running in the October election. He has appealed an earlier decision by a Supreme Court justice who rejected a habeas corpus writ his lawyers had filed seeking his release.
The full 11-member court will now rule on the appeal by electronic vote between Sept. 7 and 13, the spokesperson said.
Lula is leading polls by a long stretch ahead of the Oct. 7 vote despite not being able to campaign or take part in presidential debates. Even if Lula is freed while awaiting appeals of his conviction, Brazilian electoral law bans candidates whose guilty verdicts have been upheld on a first appeal, as is Lula's case.
His Workers Party registered his candidacy even though Brazil's electoral court is expected to bar him from running before the Sept. 17 deadline for altering tickets.
Lula has denied receiving bribes from government contractors during his two terms in office and says the corruption case against him is a pretext to keep him from returning to power.
A Datafolha poll last week gave him 39% of voter support, almost twice that of his nearest rival, far-right candidate Jair Bolsonaro.