Chile's latest export to England: burglars targeting wealthy homes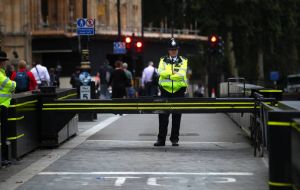 A criminal gang which was flying burglars from Chile into the UK to target wealthy homes in the South East has been dismantled, police have said. Luxury items worth more than £1m were stolen by the thieves, who targeted hundreds of homes, then shipped some of the goods out of the country.
Police disrupted the gang by tracking vehicles used in several burglaries. The Met has arrested 36 men in the past eight months, while another 39 have been held by other forces.
The investigation, known as Operation Genie, started following a spate of burglaries in south-west London and Surrey in 2017.
Detectives tracked vehicles used by the suspects and found burglars would normally commit offences within a week of flying into the country. The gang carefully selected the homes they targeted, picking properties which were often empty and on the edges of parks or golf courses.
The burglars would climb into the first floor using low roofs or garden furniture, avoiding alarms on the ground floor and then take items including designer clothes, handbags, jewelery and watches.
Of the men held in London, 16 have been convicted of burglary-related offences, and of the remaining 20, eight have been deported. Twelve of the others left the UK after being released under investigation. Other suspects were also held in Hertfordshire, Surrey and Sussex.
Det Insp Tim Court, who coordinated the investigation, said offenders had "come to London with the intention of carrying out burglaries".
"I would like to thank the Chilean Embassy, which has provided a great deal of support in helping to identify the people responsible for these crimes," he added.