Unasur will decide on removal of Nestor Kirchner's statue at its headquarters in Quito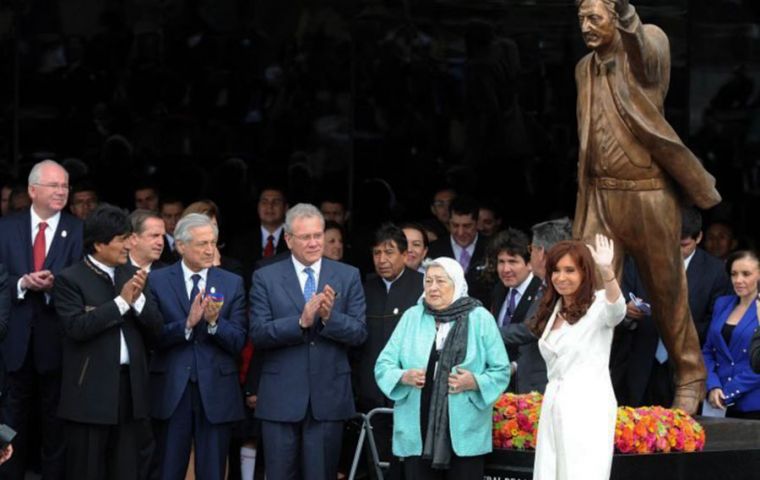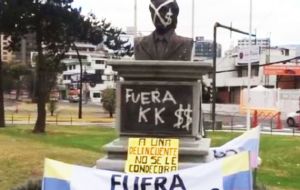 An Ecuadorian lawmaker has called for the removal of a statue of Argentine ex president Nestor Kirchner from the Union of South American Nations (UNASUR) Secretariat Headquarters in the city of Mitad del Mundo, close to Quito.
Nestor Kirchner and his wife Cristina Fernandez de Kirchner are embroiled in a major corruption scandal extending during their mandates, from 2003 to 2015, and are estimated to reach over 200 million dollars.
Lawmaker, Byron Suquilanda described the existence of the statue as a "defense of corruption", calling on the "patriotic feeling" of Ecuador's representatives to remove the statue.
Meanwhile the municipality of Quito removed a bust of former President Néstor Kirchner from a park located just north of the Ecuadorean capital.
"True to the principles and values that the people of Quito have always defended, and to preserve the integrity of the public space, on August 21st, the Municipality of Quito removed the monument dedicated to the former Argentine head of state," read a statement released by local authorities.
The statue had been located in Plaza Argentina, and was authorized in 2014 by former mayor Augusto Barrera, who ruled under then-President Rafael Correa. The former Argentine Minister of Social Development, Alicia Kirchner, had also participated in the statue's inauguration.
The release adds that the bust is currently being stored in municipal warehouses, and will soon be delivered to the Argentine embassy in Quito, allowing Argentine diplomats to "resolve the statue's destiny."
But no decision has been takes yet regarding the Nestor Kirchner monument located at the entrance of the UNASUR headquarters in Quito.
The removal of this particular statue will ultimately depend on a joint decision adopted by the 12 member countries of the union.
Nestor Kirchner was the first Secretary General of UNASUR.
In calling for the removal of the statue, Suquilanda stated: "You all know about the consequences of corruption in the Argentine government… the monument of the former Argentine president has no place in front of the UNASUR building, because he is not a good example for Ecuadorians, and he is not the representation of Latin American integrity for which the UNASUR was created."