Women's economic empowerment discussed at OAS with Ivanka Trump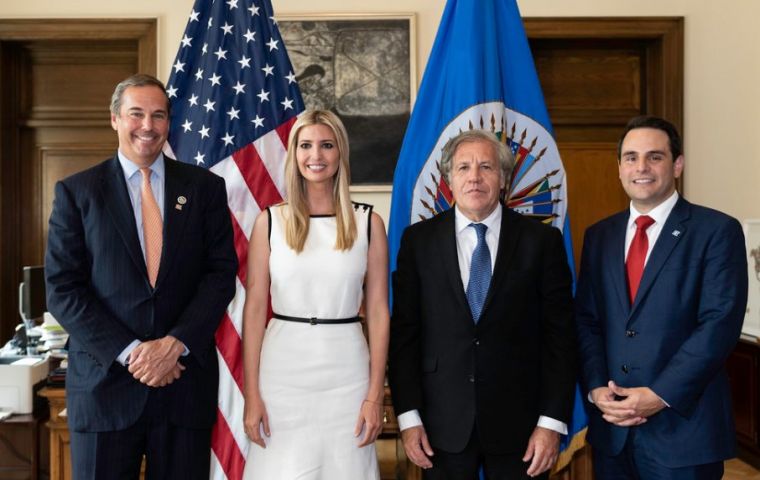 The Inter-American Council for Integral Development of the Organization of American States (OAS) today organized a meeting that featured Secretary General Luis Almagro, White House Advisor Ivanka Trump and the President and CEO the Overseas Private Investment Corporation (OPIC), Ray W. Washburne, to discuss "Financial Empowerment of Women for the Sustainable Social and Economic Development of the Americas."
At the meeting, held at OAS headquarters in Washington, DC, Almagro affirmed the Organization's commitment to equality and said "our world would be better if women ruled it. World development needs women's empowerment; we cannot aspire to sustainable and economic development if women are not at the center of it."
In her remarks, White House Advisor Ivanka Trump said "the world is more prosperous, more at peace when women across the globe can fully participate in the economy.
Advancing economic opportunity for women in our hemisphere is essential to fostering lasting peace, stability, and opportunities to prosper in Central and South America and far beyond."
The President and CEO of OPIC referred to the initiatives that the agency and the U.S. Government have recently created to provide access to finance, jobs, and services that enhance economic opportunities.
"OPIC recognizes that investing in women is one of the ways the agency can extend its impact and bring about positive change in the world, for that reason we launched at the Summit of the Americas, our 2X Initiative, a commitment to mobilize US$ 1 billion to invest in women, and Latin America is a key component of our global strategy.