UK heat wave consequences: shop prices increase breaking a 63 month cycle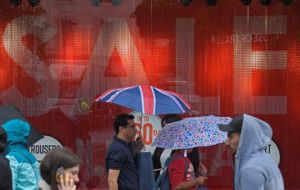 UK shop prices have risen for the first time in five years, according to the latest data from the British Retail Consortium (BRC). It said shop prices increased by 0.1% in August, breaking a cycle of 63 months when prices fell. This happens after food inflation jumped to a seven-month high of 1.9% after the recent heat wave, which hit crop yields.
BRC warned of much steeper price rises if the UK quit the European Union without a trade deal. According to the trade group, non-food price deflation also slowed to 1% in August, down from 1.4% in July - its lowest level since 2013.
It blamed strong demand for summer products earlier in the season, which reduced the need for discounting.
However, this did not apply to clothing, where price deflation continued at the same rate as in July.
The data follows warnings consumers could face a food "price shock" in the coming months due to this year's extreme weather.
On Tuesday, consultancy CEBR said the winter cold spell, known as the Beast from the East, and summer heat wave, had pushed up wholesale prices of staples such as wheat, carrots and lettuce.
This is expected to feed through to shops, pushing up consumer food prices by 5% - the equivalent of about £7 per month per household.
Farmers have also been impacted by rising costs of oil and agricultural products on global markets, according to the BRC. However, it said overall shop price inflation still remained well below the wider rate of consumer price inflation - which currently stands at 2.5%.
"Despite significant increases in costs in the supply chain, this month's figures show that retailers are keeping price increases faced by consumers to a minimum," said the British Retail Consortium's chief executive Helen Dickinson OBE.
"However, current inflationary pressures pale in comparison to potential increases in costs retailers will face in the event the we leave the EU without a deal. If that does happen retailers will not be able to shield consumers from price increases.