Chile reduces air boarding taxes by 20%, effective September first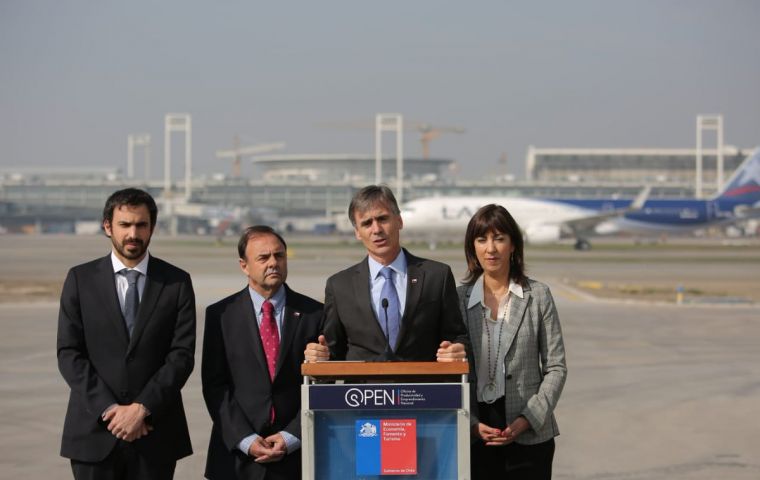 Chilean Minister of Finance Jose Ramon Valente, via its official Twitter account, announced a "20% reduction in the boarding taxes, which will reduce air fares" in the country, both for international and domestic flights. He added "traveling overseas no longer is a privilege for the well off".
The resolution will be published in the Official Gazette next week, but its implementation is immediate, beginning September first, said the minister, who explained that domestic flights will enjoy a 20% reduction in the boarding tax, with a further 10% rebate in 2019 and another 10% in 2020. This will represent a 30% reduction in a couple of years.
"Chile has international boarding taxes which compared with other OCDE countries are in the upper half, US$ 30, and this will drop to 26 dollars, effective immediately, which was the 2006 level, and in 2019 and 2020, reductions will continue, to 25 and 24 dollars respectively", indicated the Chilean minister.
Valente said that most Chileans like to travel and most will now be able to travel by air, and they fly not only on holidays or tourism, but for business and other activities.
"The more people travel by air, revenue will be higher, and probably costs lower, and that is what this government wants, that more people fly".
Chilean airlines that had been demanding these reductions anticipated that the overall cost of flying will be lower with cheaper boarding taxes, both domestically and internationally.
"The boarding tax is a cost which the passenger must pay, so this means the cost of flying will be cheaper for passengers", said Holger Paulmann, Sky airlines CEO.
"We have some leg flights as low as ten dollars, and the current boarding tax is dearer, so this didn't make much sense", according to JetSmart general manager.
"This reduction is more in line with the current aviation business and current competitive fares".