Decisive Brexit meeting in Brussels ahead of the October EU summit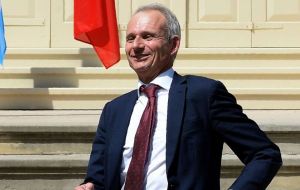 Brexit Secretary Dominic Raab is preparing for six hours of talks with the EU's chief negotiator. He will meet Michel Barnier in Brussels on Friday for the extended session ahead of an EU summit on 17 October. Both sides are hoping to agree a divorce deal and a statement on future trading relations before the summit.
Mr Raab vowed to increase the frequency of talks with Mr Barnier when he took over the job in July, following the resignation of David Davis. The meeting comes after the most senior member of Theresa May's cabinet, David Lidington, called on the EU to back the prime minister's Brexit plan or risk a no deal scenario. The UK is due to leave the EU on 29 March 2019.
On Thursday evening, Mr Raab met with the European Parliament's Brexit representative, Guy Verhofstadt. The former Belgian prime minister called the meeting "productive", tweeting that he wanted a "close future association" with the UK after Brexit that "respects the EU's core principles".
Mr Raab told a Lords Committee earlier this week that he had a "good professional and personal rapport" with Mr Barnier, adding that he was "confident that a deal is within our sights".
But he suggested that the October deadline could slip, saying there was a "possibility that it may creep beyond" that date.
Speaking in Berlin on Thursday, Mr Barnier said the EU was "prepared to offer Britain a partnership such as there never has been with any other third country".
But, he added, it would not permit anything that weakened the single market.
"We respect Britain's red lines scrupulously. In return, they must respect what we are. Single market means single market... There is no single market a la carte," he told reporters.