Agreement on recognition of university degrees between Argentina and the United Kingdom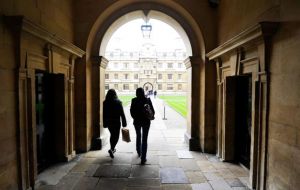 The governments of the UK and Argentina today signed an agreement that will facilitate academic cooperation through the mutual recognition of university degrees awarded by the universities of both countries.
The document states that, as of now, a Master´s degree awarded by an Argentine university "will allow direct access to doctoral programmes in higher education institutions of the United Kingdom of Great Britain and Northern Ireland, respecting the admission regulations of the Doctoral degree programme of the chosen institution". In turn, a Master´s degree granted in the United Kingdom "will allow direct access to doctoral programmes in universities of the Argentine Republic, respecting the admission regulations of the doctoral programme of the chosen institution". In addition, the agreement states that Doctoral degrees of both countries shall be considered academically comparable.
The agreement was signed by the Argentine Minister of Education, Culture, Science and Technology Alejandro Finocchiaro and by Lord Agnew Parliamentary Under Secretary of State at the UK Department for Education, during a meeting held in the margins of the G-20 Education Ministerial Meeting in the city of Mendoza. The agreement was drafted with the participation of technical staff from the Secretariat of University Policies of the Argentine Ministry of Education and UK NARIC, the national agency for the recognition and comparison of international qualifications and skills. The British Council, the UK´s international organisation for cultural relations and educational opportunities, has supported the process.
Furthermore, both governments committed to explore in the future mechanisms to recognise undergraduate degrees and professional degrees, including those qualifying for the practice of regulated professions.
This agreement will enable Argentine graduates to pursue advanced training in one of the most prestigious university systems in the world, according to the latest edition of QS World University rankings. London was also chosen as the best destination in the world for international students, and the UK has four universities in the world's top 10, and 18 in the top 100.