Brazilian leading presidential candidate stabbed and in serious condition; attack could bolster his chances
Friday, September 7th 2018 - 08:54 UTC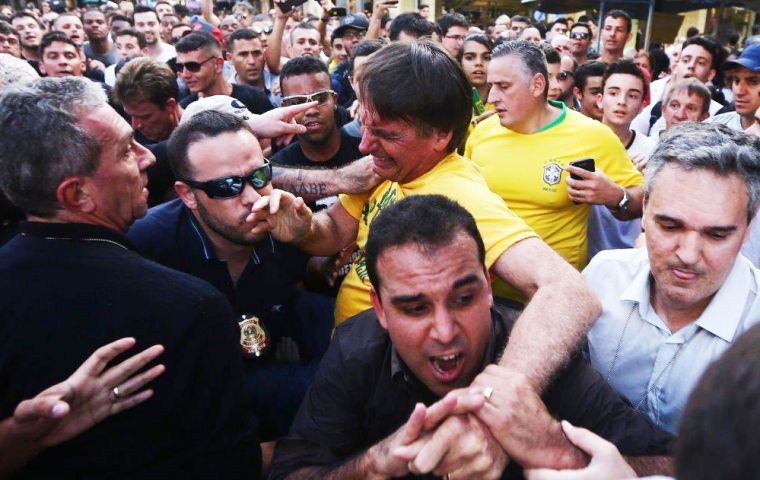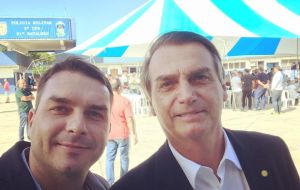 The leading candidate in Brazil's presidential election is in serious but stable condition after being stabbed by an assailant at a campaign rally on Thursday, doctors said, pushing an already chaotic campaign into further disarray.
Far-right firebrand Congressman Jair Bolsonaro, a controversial figure who has enraged many Brazilians for years with divisive comments, but has a devout following among conservative voters, could take two months to fully recover and will spend at least a week in the hospital, said Dr. Luiz Henrique Borsato, who operated on the candidate.
"His internal wounds were grave and put the patient's life at risk," Borsato said, adding that a serious challenge now would be preventing an infection that could be caused by the perforation of Bolsonaro's intestines.
Flavio Bolsonaro, the candidate's son, wrote on his verified Twitter account that "sadly, it was more serious that we had hoped for".
"The perforation reached part of his liver, lung and intestine," Flavio Bolsonaro wrote.
"He lost a lot of blood, arrived at the hospital … almost dead. He appears to have stabilised now. Please pray!"
The attack on Bolsonaro, 63, is a dramatic twist in what was already Brazil's most unpredictable election since the country's return to democracy three decades ago. Corruption investigations have jailed scores of powerful businessmen and politicians in recent years, and alienated infuriated voters.
Under Brazilian campaign laws, Bolsonaro's tiny coalition has almost no campaign time on government-regulated candidate ad blocs on TV and radio. That means he relies deeply on social media and raucous rallies around the country to drum up support. If Bolsonaro is not able to go out in the streets, it could jeopardize his campaign.
Bolsonaro, whose trademark pose at rallies is a "guns up" gesture with both hands to make them resemble pistols, says he would encourage police to kill suspected drug gang members and other armed criminals with abandon.
He has openly praised Brazil's military dictatorship and in the past said it should have killed more people.
In casting his vote on the floor of Congress for the 2016 impeachment of former President Dilma Rousseff, he dedicated his ballot to the military regime figure who oversaw the prison where Rousseff was jailed for three years and brutally tortured.
Bolsonaro faces trial before the Supreme Court for speech that prosecutors said incited hate and rape. He has called the charges politically motivated.
Political violence is rampant in Brazil at the local level.
The Federal Police said in a statement that it had officers escorting Bolsonaro at the time of the knife attack and the "aggressor" was caught in the act. It said the circumstances were being investigated.
TV images showed Bolsonaro being carried on someone's shoulders in the middle of a crushing crowd of cheering supporters on one of the city's main streets when a knife was seen raised above heads just before it plunged into the candidate's body.
The pictures show Bolsonaro screaming in pain, then falling backward into the arms of those around him. It took a few moments for the crowd to realize what occurred, but they quickly rushed the candidate out of the street.
Fernando Haddad, who will likely be the leftist Workers Party presidential candidate, said the stabbing was a "shame" and a "horror."
President Michel Temer and Bolsonaro's electoral rivals Ciro Gomes, Marina Silva, and Geraldo Alckmin all expressed disdain of the violence.
Brazil's Bovespa extended gains after the stabbing as traders bet the incident could boost support for Bolsonaro, who has tapped a University of Chicago-trained banker as his main economic adviser.